LEAD Celebrates National Apprenticeship Week 2022
LEAD Tampa Bay recognizes National Apprenticeship Week (NAW) 2022 which runs from November 14-20. According to Apprenticeship USA, NAW is a nationwide celebration where industry, labor, equity, workforce, education, and government leaders host events to showcase the value of Registered Apprenticeship for re-building our economy, advancing racial and gender equity, and supporting underserved communities. NAW is an opportunity to highlight how Registered Apprenticeship, a proven and industry-driven training model provides a critical talent pipeline that can help to address some of our nation's pressing workforce challenges such as rebuilding our country's infrastructure, addressing critical supply chain demands, supporting a clean energy workforce, modernizing our cybersecurity response, and responding to care economy issues.
Apprenticeships Help Develop Skilled Trades Workers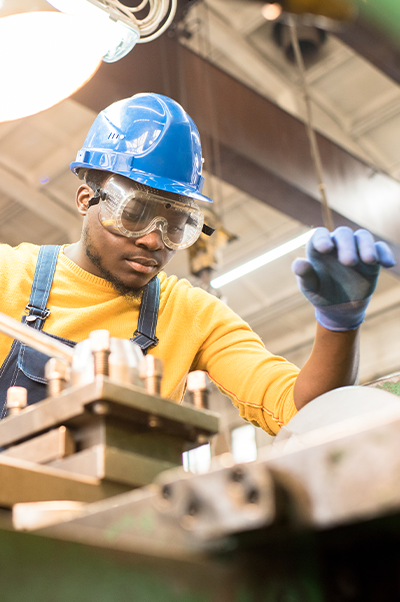 Jason Stephens, Managing Partner at LEAD Tampa Bay, explains that apprenticeships help bring a new generation of quality trained
workers to the skilled trades. "An apprenticeship is a training system whereby persons wishing to receive training in a skilled trade will get on-the-job training, most often accompanied by an educational study component. Once an apprenticeship completes their program, they are armed with the subject matter knowledge and skill needed to pass a licensure exam in that respective industry or field," says Jason.  Skilled trades are regulated by industry and/or state governing bodies.
Top Industries for Skilled Trades Worker Apprenticeships
Occupations top on the list, according to the Bureau of Labor Statistics (BLS), include:
Boilermakers
Carpenters
Electricians
Elevator installers and repairers
Glaziers
Insulation workers, mechanical
Skilled Trades Apprenticeship Programs in Florida
Jason recommends starting with technical and state colleges. In a March 2022 press release, Governor Ron DeSantis and Commissioner of Education Richard Corcoran announced a $10.5 million in continued investments to expand registered apprenticeship and pre-apprenticeship programs (ERAP) at 11 colleges across Florida. The ERAP Grant offers funds to state colleges and technical colleges to start or expand registered apprenticeship and/or pre-apprenticeship programs who meet state apprenticeship requirements.
In the March 2022 release, Corcoran said, "This funding provides critical opportunities to grow Florida's highly-skilled workforce…to make Florida number one in the nation for workforce education." And, Jason agrees. "It is an exciting time for the skilled trade workforce. The Country is once again placing skilled trades industries as top priority for continued economic growth," says Jason.
What is a Registered Apprenticeship Program?
The Florida Department of Education (FLDOE) defines the registered apprenticeship programs a system that enables employers to develop and apply industry standards to training programs for registered apprentices that can increase productivity and improve the quality of the workforce. By providing on-the-job training, related classroom instruction, and guaranteed wage structures, employers who sponsor apprentices provide incentives to attract and retain more highly qualified employees and improve productivity. Jason adds that certifications gained through registered apprenticeship programs are recognized nationwide.
"Students who complete a registered apprenticeship program are accepted by the industry as journey workers and often start their careers by earning a respectable living wage," says Jason, who has been recruiting and placing highly qualified skilled workers in top Tampa Bay area positions for nearly 10 years.
Finding Skilled Trades Apprenticeships
If you are interested in becoming an apprentice to learn in-demand skills to prepare for a job in a specific trade, Jason recommends you search registered apprenticeship opportunities through the Apprenticeship USA Apprenticeship Job Finder.
For Skilled Trades Employment Opportunities in Florida, Contact LEAD Tampa Bay
And, if you are a skilled trade worker seeking an opportunity to grow in your career, reach out to Jason Stephens today to learn how he can help you find your next job. Jason and the LEAD, Tampa Bay team, specialize in the industrial and construction industries, placing qualified candidates in positions such as carpenter, electrician, pipefitter, plumber, sheet metal mechanic, welder, and more. Call LEAD Tampa Bay today at 813-513-0845.