Positions regularly filled by our team include:
From apprentice to journeyman level, we provide all levels of carpenters with wide varieties of skill sets, and experiences, including, but not limited to:
Metal Framing
Dry Wall
Concrete Form/Finish
Rough Framing
Finish Carpentry
If needed, your LEAD branch has expertise on individual state licensing and certification requirements within the commercial and industrial construction trade.
LEAD has available electricians that meet licensing requirements for all states from apprentice to journeyman level, licensed and certified according to your company and/or state requirements.  Responsibilities vary according to the project but may include conduit, pulling wire, reading blueprints, inspection and testing of components including transformers, transfer switches, switch gears.  Tailored to meet your requirements, LEAD branches have a very diverse pool of commercial electricians and are extremely experienced with basic to the complex skill sets.
Apprentices & Journeyman Technicians, HVAC Helpers, Commercial HVAC Installers, HVAC Duct Installer, Refrigeration Techs, HVAC Sheet Metal Mechanics;  LEAD's HVAC trades people have the expertise needed for commercial installations: straps, duct installation, CEP's, chill water, insulation and more: From basic to highly complex.
LEAD provides on-demand access to craftsmen with skills that stabilize concrete structures including field iron workers, steel rodbusters, journeyman and apprentice rodbusters, drill operators, concrete rodbusters and other related trades.  Ironworkers and rebar workers are a difficult trade to staff as the demand continues to exceed supply.  LEAD will prepare for your project by accessing our massive trade network to find exactly what you need!
Safety-minded, commercial and industrial experienced plumbers, certified medias plumbers, and apprentice helpers that have experience working with various materials such as CPVC – PVC – Cast Iron – Copper, etc.   Short-term, long-term, temp to perm…. on-demand access is available for your projects from underground to setting fixtures.
LEAD provides a very diverse array of mechanics for commercial construction sites.  Keeping your heavy equipment maintained and safely operating may prevent down time and keep you on schedule.  Short term or for the duration of the project, LEAD keeps you operational!
Based on your specifications, LEAD will provide the helpers you require to assist in getting the job done.  For basic help with various projects, we ensure the Helpers are safety-minded, have the skills you require and have demonstrated dependability.
LEAD has all back-office support necessary to manage costs associated with our skilled trade associates traveling to your job sites.  Coordination of travel, management of cost, per diems, lodging and any other issues that arise when our associates travel to your job site.
LEAD handles many prevailing wage projects.  Our tenured back-office staff efficiently and compliantly manage our role within these programs inclusive of paying according to state and federal wage determinations and comprehensive weekly and monthly reporting.
LEAD also has the ability to enroll in Insurance Controlled Projects (CCIP/OCIP) while also carrying all the necessary insurance policies required by most contractors.
Painting, Waterproofing, Sandblasting and Coatings Applicators:  as with all of LEAD's trades people, these undergo extensive interviews and skills evaluations.  LEAD provides commercial apprentice and journeyman who have demonstrated capabilities of dependability, quality, and are safety minded.
LEAD's roots run deep within the commercial construction industry.
The founders and first leadership of LEAD have decades of practice experience in skilled and semi-skilled construction staffing.
In the trenches with our clients we gained a broad education on the critical nature of meeting their manpower needs.  On all levels, LEAD recognizes your project's success is dependent on the workforce we provide.
Our focus is never solely on simple "providing" of a workforce.  LEAD concentrates equally on the consistency, responsiveness and accuracy with which it is delivered.
Our project coordinators and account managers will work with you to engineer solutions that maximize productivity and profit margin.
Why?  We know you.  We've been with you in the trenches for many years.
We know intimately the cycle of workforce productivity, profit margins, safety impacts and the ultimate reaching of your goals.
As with ALL of our trades, Safety is our NUMBER ONE goal.  In partnership with you, our client, our internal LEAD teams go to great lengths to ensure our Associate's safety.  LEAD is 100% OSHA compliant and is a Member Contractor of ISNETWORLD.
Within the Commercial and Industrial Construction segment, LEAD's Project Coordinators build diverse, on-demand workforces.  Having worked on commercial project types with varying levels of complexity, our teams commonly provide a variety of trades people as described in the drop down sections in the left margin.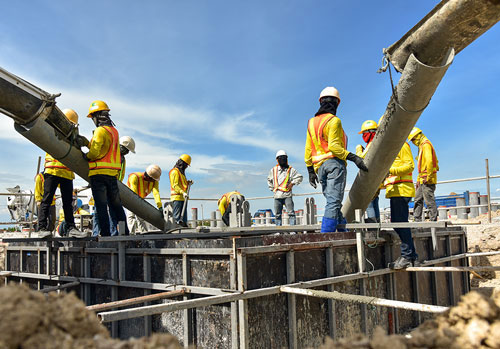 "LEAD is a huge service to the construction industry. I have worked with LEAD as an employee as well as a customer. Through the years of working with them I have found the communication and the concern their teams put in to make sure our needs are met are held to a high standard. They also follow the growth of the economy very well and maintain their pricing accordingly. I find that their workers are happy and focus on the project instead of regretting being there. This brings success and meeting our whole team schedules.

I have been fortunate enough to see that they interview their applicants very well and know what level of craftsmanship they bring to the table. This is another plus for our team. They also have done a credible job of meeting the supply and demand of manpower.

It makes me wonder sometimes how they do it! Also, they are down to earth and manage upcoming changes very efficiently and on a professional level.

Very professional company with great culture and atmosphere!"