LEAD Marine Jacksonville Draws on Life Lessons for Their Clients' Success
The staffing industry stands at the mercy of wider forces in the economy that make flexibility, adaptability, and the capacity for making the most of the smallest opportunities essential for success in this demanding business.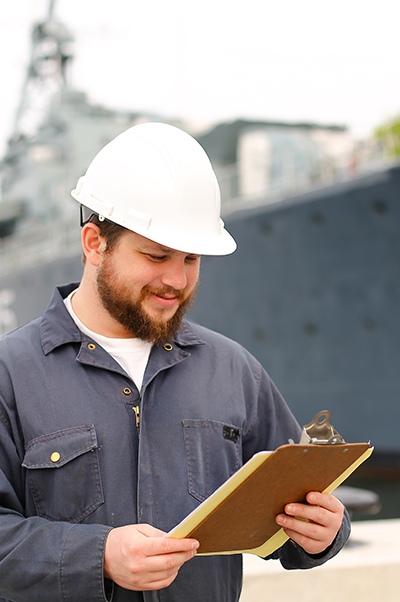 Success in the staffing industry always looks the same: clients achieve outstanding results on projects they could not complete without LEAD Marine Jacksonville's assistance; but the route to achieving that result is many varied. You need to progress at all costs, capitalizing on opportunities in all the forms they appear, and be willing to excel at the most menial aspects of your job while never losing sight of the long-term goals of successfully contributing to the community by providing always reliable, always safe, and always effective skilled workers to the toughest jobs.
Recruiter Chris Patterson: At the Helm, Leading the LEAD Marine Jacksonville Team
LEAD Marine Jacksonville has at its helm a man who has embodied this ethos of grit and determination throughout his life and continues to be guided in his work by his experiences as a college athlete, where he saw the power of determination and making the most of every opportunity: LEAD Marine Jacksonville Project Manager and Recruiter Chris Patterson was a walk-on college football player (setting a receiver record that still stands today), later working on the team that transformed a car dealership from the uncertainty of its opening days to one of the top-selling outlets in Charlotte, North Carolina, and after joining LEAD Marine Jacksonville immediately began applying these past experiences to the difficult task of matching the perfect skilled worker to solve the challenging situations brought to his desk by his clients.
LEAD Marine Jacksonville Strives to Exceed Client Expectations
"We have an immense responsibility in the staffing industry, and I continue to reflect on ways I can improve the job I am doing to exceed our client's expectations," Chris said, "The challenges we all face throughout our lives are extremely important lessons for how to improve in the future, and everything from my experience of college athletics to the rigors of the sales world are brought together to form my current attitude of what success in the staffing industry looks like. It's all about recognizing that every day comes with opportunities, and many of them won't come around again soon, so you've got to be alert, you've got to be tough, you've got to play fair, and you've got to show up for yourself and your team every day."
LEAD Marine Jacksonville has greatly benefited from Chris's leadership and the ethos of teamwork and personal growth behind it. The branch focuses on a number of demanding industrial and marine projects that require constant focus and attention to succeed. Chris and his team regularly fill positions for structural welders, fitters, riggers, machinist, carpenters, marine electricians, pipe welders, as well as a variety of entry level opportunities.
"When you encounter people in the industrial and marine businesses, you know they know how to work hard," Chris said, "They have made sacrifices to be where they are, and they have put in the hours. It's really important for our organization to recognize their sacrifices and their hard work, and to be there to pick each other up when we're down. Everything does not always go to plan in the staffing world, as in life, and it's in adversity that we really have an opportunity to grow as a team."
A large part of LEAD Marine Jacksonville's approach to the job involves the hands-on service of walking clients step by step through the hiring and placement progress, and it's in these face-to-face interactions that a history of determination and belief instilled in Chris and his team really becomes important.
Our Successful Hands-On Placement Approach to Staffing
"Our clients need to be able to see in our eyes that we will be there for their project all the way through to its successful completion," Chris said, "And we're able to look them in the eye and say 'we've got you covered,' because everyone on this team has got here by being determined, hard-working, adaptable, and deeply committed to the job at hand."
LEAD Marine Jacksonville has a geographic reach from Florida, Hawaii, San Diego, Seattle, Virginia, and Nationwide, specializing in providing marine industry businesses with the highest quality marine, construction, and industrial trade workers available.
The LEAD Marine Jacksonville team has skilled workers ready for the toughest industrial and marine jobs around: call Chris at 904-463-5023.