Focusing on Teamwork Leads to Great Production Results
What makes humans special, writes renowned historian Yuval Noah Harari, is that you will never see two chimpanzees carrying a log together. Teamwork is the foundation of our civilization, and the metaphor of carrying a log together applies to all aspects of the work Chris Patterson, Project Manager and Recruiter at LEAD Marine Jacksonville, and his team undertake.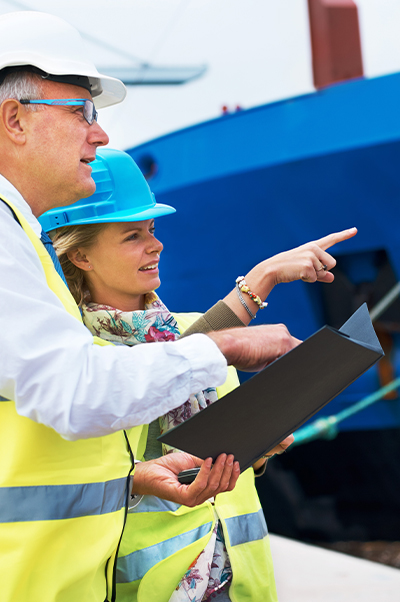 "What's so great about being in the staffing business is when an important member of the maritime industry needs help and can't find it, we're able to step up and make sure the work they've set out to do gets completed," said Chris, "It makes our work very rewarding and as Harari points out, helping each other is part of what's so great about human beings."
The "log" that LEAD Marine Jacksonville steps up to help it's maritime partners carry, both locally and nationally, are often shipyard projects like the Jacksonville Fincantieri makeover that are becoming increasingly common, and increasingly vital to the community, as Florida's maritime industry grows.
As the state and the industry expand and complexify, excelling in managing relationships, establishing clear communication, and other elements of strong teamwork will be what sets apart those businesses that can contribute to the state's essential shipping industry from those that hold it back.
A Growing industry Improves Faster with Strong Teamwork
Every element of a growing industry is improved when strong teamwork is the guiding principle, and providing clients with team members that understand this is one of the ways LEAD Marine Jacksonville sets itself apart from competing staffing agencies.
"We know that our clients will be relying on new team members sharing their overall vision and values when they arrive on the jobsite, as well as showing up in the other ways great team members show up for each other, and we go to great lengths to ensure that our candidates are capable and willing to be part of a project bigger than themselves from day one," Chris said, "A chain is only as strong as its weakest link, so we want our candidates not only to be the strongest link in the chain, but also to understand their role as team members means supporting others when times get tough. Having that mindset is really important for our office, because we know it leads to better production results on the job site."
LEAD Marine Jacksonville regularly fills positions for structural welders, fitters, riggers, machinists, carpenters, marine electricians, pipe welders, as well as entry level opportunities, serving the marine industry with the highest quality marine, construction, and industrial workers. Clients that partner with LEAD Marine Jacksonville will feel immediately the emphasis Chris and his team place on effective teamwork as a road to success as they walk their clients through every step of the hiring and placement process, from researching the perfect candidate to supporting them on the job site until the work is done.
LEAD Marine Jacksonville Learns from Experience
As a record holding college athlete, Chris is well positioned to understand the value of teamwork for a project's success. After succeeding as a walk-on college football player, and later joining the Enterprise team that transformed the local car dealership into one of the top-selling outlets in Charlotte, North Carolina, Chris saw how a cohesive team produced results that exceeded what anyone of the members could do alone, recognizing teamwork as an essential part of improving communities.
"In the maritime staffing industry, every job we take part in is important and hundreds of families rely on the outcome of a safe and successful project. We want to exceed our client's expectations in every way, we want to deliver on our responsibilities to keep our workers safe and our projects running smoothly, and we want to keep making Jacksonville a better, more productive place than it already is, and all of this is going to be more effective when we work as a team" Chris said.
LEAD Marine Jacksonville has a geographic reach from Nationwide, Florida, Hawaii, San Diego, Seattle, Virginia, and Wisconsin, focusing on staffing the industrial and marine industries.
Reach out to Chris and his team at 904-463-5023.