U.S. Faces Shortage of Electricians – Now the Highest Demand in History
The job market for skilled trades, especially electricians, is booming. The Bureau of Labor Statistics predicts that 80,000 new electrician jobs will be created annually through 2031, making this the highest demand in history for electricians.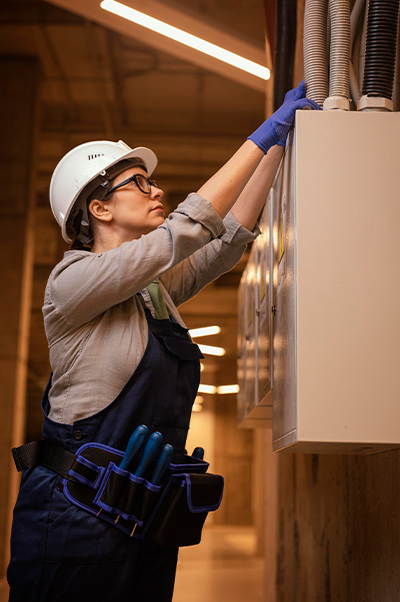 Dick McLaughlin, managing partner of LEAD New England, a skilled trade staffing company says the demand for skilled trade will continue to trend up as the U.S. moves further away from fossil fuel and increases the use of electricity and new energy. "Yes, skilled trade demand is up; however, the industry faces significant challenges in keeping up with the demand to fill those positions with qualified tradesmen," says Dick.
There are several ways to address the shortage of electricians (and other skilled trades) including increasing the number of women in the industry and attracting younger generations.
Dick explains only 2% of employed electricians in the U.S. are women. "We need to change the perception of skilled trades and it starts at an early age in the home, in schools, and the general public." He says, "Just as we are seeing more female reporters and female referees in professional sports, we need to see the same progression in the trades." Changing the perception of what an electrician (or other skilled trade worker like a carpenter, machinist, plumber, or welder) looks like is crucial to keeping up with the demand for workers.
"Perception needs to change on a grand scale; we need to do what Taylor Swift did for the Kansas City Chiefs and the entire NFL – to create greater awareness amongst females, especially the younger population," says Dick. Young girls don't see themselves on a construction site grounding electricity, or in a home updating old two-prong outlets and electrical panels. "Our daughters need to see themselves working as electricians, carpenters, etc. in advertisements, on TV, in textbooks. And the same goes for our younger generation."
The opportunity to learn a trade was minimal for the post-Baby Boomer generations. Shop classes like auto mechanics and woodworking became a thing of the past, often frowned upon – with the better option being to obtain a college degree in anything but the trades. High schools are just now beginning to add skilled trade course options back into their curriculum. Additionally, trade schools typically built for adult programming are changing gears and adding skilled trade programs to appeal to high school students, some of which include transportation between institutions.
Dick explains that with skilled labor demand so high, companies are struggling to find qualified workers to fill open positions. A vast talent pool of experts in their craft and a culture of high quality and safety make LEAD New England an excellent option for companies seeking workforce staffing solutions. To learn more, industry businesses and skilled trade workers can contact LEAD New England Managing Partner Dick McLaughlin at 508-801-3755.