Shipyard and Shipbuilding Jobs in High Demand
Over 90% of maritime industry employers believe the skills gap will adversely affect their business in the future, according to Work The Waterfront (workthewaterfront.com), a recent partnership established to help companies promote U.S. maritime careers. LEAD Marine, a partner of Work The Waterfront, says quality skilled workers are needed to fill a wide range of specialized positions in the shipyard and shipbuilding industry.
Alan Biliti, LEAD Marine Division Sales and Recruiting Manager explains there have been many technological advances in designing, building and maintaining ships so there also is a need for technical trained workers. Other reasons skilled workers are in high demand are due to an influx of baby boomers exiting the workforce as well as the positive economic recovery since the pandemic.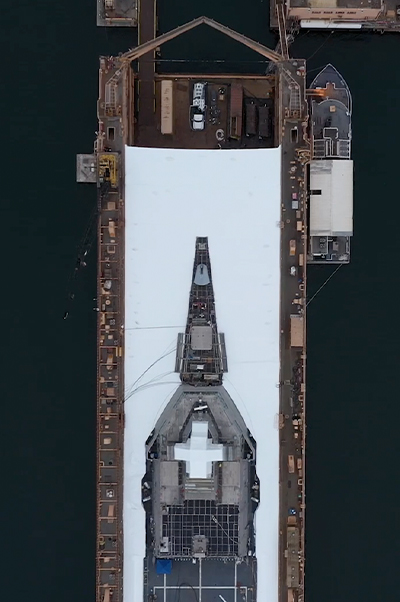 "The need is great and there are many careers available in the maritime industry," says Alan, who was recently featured in a Career Stories video segment as part of the Work The Waterfront marketing campaign to create awareness of the need for skilled maritime workers. Some maritime careers in high demand are:
Carpenters
Ship carpenters, also known as shipwrights, interpret blueprints to build and repair boats using a variety of materials, such as aluminum, fiberglass and wood. The responsibilities of a shipwright may include structural repairs and assembly of parts and frames.
Electricians
The marine electrician is responsible for installs and repairs electrical cables and systems on ships. They are knowledgeable in reading blueprints and able to follow wiring diagrams to repair fixtures, wiring and equipment aboard a ship and in a shipyard facility.
Engineers
Mechanical engineers are responsible for the structural fabrication and welding in a ship whereas electrical engineers procure and install a ship's electrical equipment. Additionally, both electrical and electronic engineers supervise the wiring and installation of navigational equipment.
Riggers
A marine rigger is responsible for a ships rigging system and has working knowledge of rigging hardware such as ropes, slings, cables, clamps, etc. Also, riggers are responsible for moving bulky, heavy equipment whether aboard ship or around the shipyard.
Welders
Ship building and shipyard crews use welders on all the metal structures that make up a ship, including pipes, frames, hull plates, tanks, etc. Welders with experience in MIG (metal inert gas), TIG (Tungsten inert gas) and ARC (a type of welding process using an electric arc to create heat to melt and join metals) are utilized in the industry.
Alan says, "LEAD Marine has proven success in matching quality trade workers with a specific skillset. And, if you are an individual who is just now considering the maritime industry, there are many trade schools who have programs and apprenticeships to help you begin your path to an in-demand marine job."
LEAD Marine, an approved and active vendor to the three largest shipbuilders in the U.S., matches skilled trade workers with companies across our nation's shorelines. Call today at 619-468-2372 to learn how LEAD can help you find your next maritime job. And, if you are a company ready for a partner in maritime staffing, reach out to Alan to learn how his extensive experience in the marine industry can help you meet your staffing goals.