LEAD Jacksonville Celebrates the Return of Football Season and the Lessons the Pros Have to Offer    
As the Jacksonville Jaguars return to the field for the 2023 season, Chris Patterson, Project Manager and Recruiter at LEAD Marine Jacksonville and a record holding college football star, will be paying close attention to find lessons from the pros on what it means to be a powerhouse of a team — that's what recruiting in the staffing industry is all about.
"Football is a big part of life down here in Florida, and I think part of that is because the players set such a good example of what it means to support each other to get a project into the endzone," Chris said, "Floridians really look up to the NFL and as a recruiting office we want to emulate the best that the Jaguars have to offer in terms of dedication, commitment, and teamwork."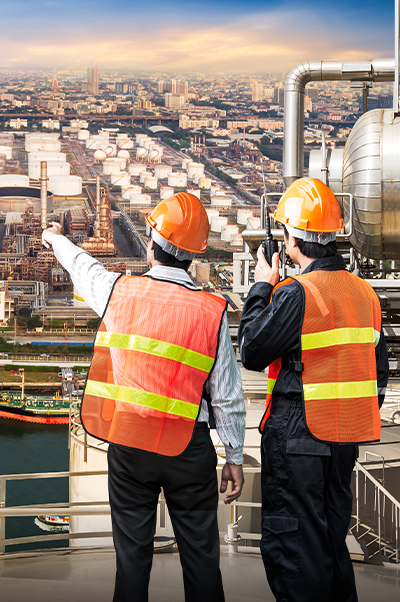 Chris and his team staff shipyard projects like the Jacksonville Fincantieri makeover that play a vital role in the community, and Florida's growing maritime industry has a strong need for great workers who can pass LEAD's stringent onboarding process.  As the role of the maritime industry expands in Florida, the necessity for team players who share a common goal becomes even more important. Joining LEAD Jacksonville is like partnering with a great coach — Chris and his team connect you to all the right people, match you to the job that's a perfect fit for your skill sets, and help the workforce collectively keep their eye on the endzone — in this case, the successful completion of essential maritime projects.
LEAD Marine Jacksonville regularly fills positions for structural welders, fitters, riggers, machinists, carpenters, marine electricians, pipe welders, as well as entry level opportunities, serving the marine industry with the highest quality marine, construction, and industrial workers. Clients that partner with LEAD Marine Jacksonville will feel immediately the emphasis Chris and his team place on effective teamwork as a road to success as they walk their clients through every step of the hiring and placement process, from researching the perfect candidate to supporting them on the job site until the work is done.
Lessons in Great Teamwork from the Jags
Chris is well positioned to understand what a difference it makes to have a great team around you, and he strives to foster an environment of teamwork similar to what he experienced on the football field himself. After succeeding as a walk-on college football player, he later joined an Enterprise team in Charlotte, North Carolina, and together transformed the local car dealership into one of the top-selling outlets. This experience prior to joining LEAD was formative, and the common thread through all of this work experience was that success in a football game, a car dealership, and the maritime industry, all comes from how strong the team is able to be.
"I'm grateful that I was able to experience firsthand what it felt like to be part of a team," Chris said, "It's an experience that everybody should have, and we aim for our employees and clients to feel like they're working together to march the ball down the field against the opposing team made up of all the thousands of everyday problems that are a part of every job. Logistical challenges, staffing challenges, and onsite issues are all overcome through teamwork."
LEAD Marine Jacksonville has a geographic reach from Nationwide, Florida, Hawaii, San Diego, Seattle, Virginia, and Wisconsin, focusing on staffing the industrial and marine industries, with an emphasis on hands-on services that walk clients through each step of the hiring and placement process, sticking together until the job is done.
Reach Chris and his team at 904-463-5023.