Green Building Increases Hiring Demand for Qualified Workers
The construction industry is in the leading role to create sustainable practices that make a positive impact on the environment. According to the USGBC (U.S. Green Building Council) report, green buildings can reduce carbon emission by 34% and consume 25% less energy than conventional buildings. This alone creates greater demand for new and renovated buildings and infrastructure placing the construction industry as one of the biggest sectors of the economy. According to construction.com, architects, engineers, contractors, owners, etc. from around the world expect an increase in green building.
Sustainable, Green Buildings are Driving Demand in the Construction Industry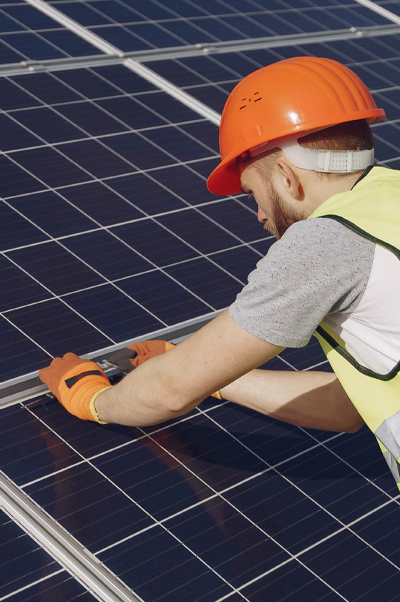 "Now that the worst of the pandemic is behind us, and the economy is recovering- with construction as a top industry leader in jobs, all eyes are moving back to creating a more sustainable environment," says Jennifer Peavy, Branch Manager of LEAD Pinellas, a staffing company that specializes in skilled trades commercial construction industry. Whether it's a green building, or securing coastal erosion, Jennifer says, the industry needs more skilled workers that are green certified and knowledgeable in sustainability.
Need Qualified Construction Workers with Experience Working on Green Buildings?
With green building on the rise, companies are asking if they should learn to use green trades people and mold them into their ideal employee, or, should they rely on a staffing partner to help them secure experienced certified trade workers who understand building Green?
Jennifer refers to a recent McGraw Hill Construction study that found that 71% of hiring decision makers said that being green certified increases a worker's competitiveness. She says LEAD offers the best qualified candidates for green projects, from electricians to plumbers to pipefitters and more. "Companies can rely on us to provide them the best match for their projects. They can avoid the high cost of training and certifying their employees by using our expertise in hiring qualified trade workers."
Jennifer says, "As a society we have moved from wanting to expecting healthier, more energy efficient, and environmentally friendly buildings, therefore the demand for certified green building personnel is greater than ever." She explains, in Pinellas County and the Tampa Bay region, the construction of green buildings and eco-friendly infrastructure projects continue to increase. In Pinellas County, green building has more than doubled and sustainability is a top priority," says Jennifer.
LEAD Pinellas Staffing Company Can Save Companies Time and Money Hiring Qualified Green Building Construction Workers
The growing number of green construction projects intensifies the demand for industry trade workers. "LEAD skilled workers are background checked, safety-trained and hold industry certifications. We offer a large pool of candidates distinguished as knowledgeable green builders who are ready to work and meet your project goals," says Jennifer, who has nearly 10 years in the skilled trade staffing industry.
LEAD Pinellas Project Coordinator Jeremy Reask says, "Commercial construction companies are giving priority to using environmental resources essential to sustainable design. They are using construction techniques necessary for green building and LEAD Pinellas is helping companies find trade workers who meet the skills required for green building."
The advantage of working with LEAD to ramp up your skilled worker staff is that a company does not have to spend the time and money to teach their workers how to build green. "We have workers already green certified."
Jennifer adds LEAD trade workers boost the quality of your work, they stay healthy and safe on the job and help you build a more sustainable community. "Whether it's a tradesman who understands solar installation, or a construction worker who is adept at using green materials or familiar with the building codes required for green building certification, LEAD Pinellas is a company's best opportunity to find the perfect match for a project."
LEAD Pinellas Has Commercial Construction Workers Ready to Work on Your Next Green Building Project
If you're in the business of building green and in need of experienced green trade workers, reach out to LEAD Pinellas today! And, if you are a green-certified skilled worker, the LEAD Pinellas team can get you to work on the next big green project! Call Jennifer Peavy at 727-219-2602 today to get started!