Supply Chain Disruptions Persist in Construction Industry
The shutdown of factories worldwide during the COVID-19 pandemic crippled the economy, halting production of goods and materials. And although production levels have since increased with a renewed demand for goods, the global supply shortage persists. "The supply of raw materials is dangerously low causing major concern in the industrial and commercial construction industries," says Steve Maspero, LEAD San Antonio Sales Manager, who specializes in industrial and commercial construction skilled craft trades staffing. LEAD San Antonio has been at the forefront of providing workforce solutions to the skilled trade industries – helping companies staff their projects to meet demands.
Steve says most construction segments are expecting growth throughout 2022.  However, labor and materials will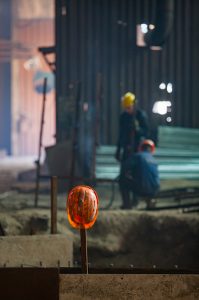 remain the biggest challenges. He explains there are several factors in play that have caused supply chain disruption.
Production Shutdowns and Delays
Many factories completely stopped production of goods and materials during the COVID pandemic. Now, in 2022, the increase in demand has production levels back up; however, manufacturing remains unpredictable due to varied production schedules, mostly due to a shortage of labor and/or materials.
Supply Chain Labor Shortages
Companies lost workers during the pandemic. Skilled workers found new work when production shut down and many workers switched careers; others retired altogether. Therefore, the skilled labor pool is smaller.
Industry experts estimate a need of 61,000 new hires each month in order to keep up with the industry growth and vacancies through 2024. Steve says, "The number of laborers needed in construction is overwhelming! There are just not enough carpenters, roofers, electricians, plumbers, pipe fitters, etc. for all the construction jobs out there. This is where LEAD is a huge asset to our company clients. We continue to recruit and retain the highest skilled trade labors who are ready to be matched with a company and get to work," says Steve. He also attributes the ever-changing project timelines to the small labor pools. "Companies often adjust their schedule because they don't have the right laborer in place."
Scarcity of Shipping Containers Causing Logistics Delays
The shipping container shortage began with the start of the coronavirus pandemic and is the cause of logistical nightmares for many. Steve explains, existing containers are backed up in ports, storage facilities and cargo ships and the rising demand for containers is worsening port congestion. Steve says, "There is an imbalance in recovery, both from a geographical and a labor aspect. China, Europe, and the United States economies each are recovering at a different pace."
Additionally, companies are finding it hard to book a container and when they do find a container, the cost is well above pre-COVID levels. "The good news is that new containers are in production. However, they are not expected to fix the problem immediately," says Steve.
Materials Challenges
We saw a 23.5% inflationary price increase in construction materials in a recent 12-month period. In addition to steel, diesel fuel, natural gas, and iron are at unprecedented levels. Steve says, "The cost of materials is steadying in 2022, however contractors expect elevated costs to remain. For example, the price of lumber and steel has nearly tripled since early pre-pandemic 2020. Aluminum and copper also are at historical prices. (In an effort to cut greenhouse gases, China has shut down most of the manufacturing of raw aluminum, resulting in a shortage and high cost due to demand.)
COVID wasn't the only reason for our materials challenges. The February Texas freeze – having nothing to do with COVID – knocked out resin production impacting construction plastics," says Steve.  He says the Infrastructure Package just passed in the U.S. won't make an immediate impact; it will take time to completely level off or recover.
LEAD San Antonio Can Help with Supply Chain Staffing
Despite the supply chain disruptions, work continues and the need for experienced and qualified skilled labors is evident in the amount of construction projects underway and planned for development. If you are forging ahead with construction projects, call Steve Maspero to learn how LEAD San Antonio can help position your company to face the current industry climate head-on and take advantage of the skilled labor his team has available. Let's get to work! Call 210-517-2073.