A Great Staffing Partner = Peace of Mind
The electrician sector is a complicated and varied place, and skilled trade workers capable of working to the highest standards can be hard to find. A top-tier staffing partner can be indispensable for the success of large-scale solar projects, commercial, industrial, and multi-unit residential and mixed-use projects. LEAD New England has been focusing on attracting and retaining the best available electricians, equipment operators, and skilled labor for the top 100 electrician contractors in the New England market, making them an essential partner for industry leaders looking to get ahead.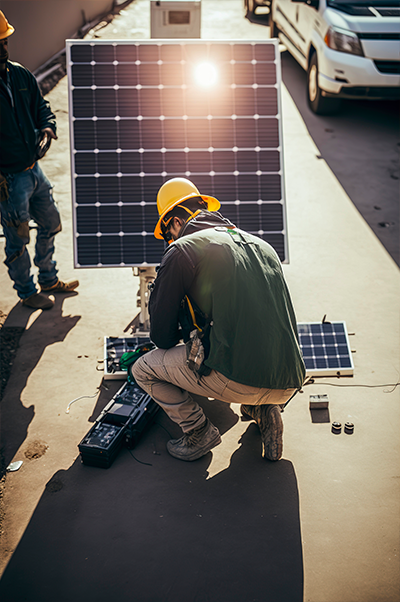 The benefits of partnering with LEAD New England come down to the extra mile Dick McLaughlin, Managing Partner at LEAD New England, and his team always go to bring the best workers to New England's most important building projects. Much more than a typical staffing agency or broker, Dick and his team act as advisors and market researchers, staying up to date on the most recent industry trends and economic conditions, and suppliers for the necessary PPE and travel needs of their workers.
"Through our rigorous onboarding process, advisory capabilities, and me and my team's decades of experience in the staffing industry, we offer our clients peace of mind that everything they need from a skilled worker will be provided to them, and when a skilled worker arrives on their job site, that job will be done correctly, safely, and on time," said Dick.
The Plainville, Mass based branch of LEAD offers these services throughout the Northeast, from New Jersey to Maine, but also has the capability to staff positions in all 50 states. Some of the most esteemed electrician contractors in the region regularly use LEAD New England to staff positions for electricians, journeymen, apprentices, helpers, equipment operators, lulls, skid steers, pile drivers, and hoisting cranes, as well as positions for office personnel and direct placement services, including accounting AR/AP estimators, project managers, foremen, and field superintendents.
"It can be difficult for a busy contractor to spend time tracking down the specific skilled trade worker they need while keeping their project moving ahead on schedule. LEAD New England does all of that research for you, while taking care of the necessary onboarding processes that filter the best from the rest, which lets our clients focus on other elements of their project," Dick said.
After 25 years of experience in a variety of roles in the staffing industry, including managing at the branch, local, and regional level, Dick has created a work culture that optimizes for what works best for his clients, best for his office, and best for his skilled workers, focusing on win-win-win situations.
"We want our clients to succeed because we all rely on electricity; we want our employees to succeed because that allows our clients to succeed; and when both those things happen, we've succeeded. That's the philosophy that's driving our team to work so hard," Dick said, "Over the past 25 years that philosophy has guided what we're doing here, and we continue to run this business based on achieving what's best for everybody."
LEAD New England's focus on a win-win-win philosophy means clients will always be sent only the skilled workers who have proven themselves capable of passing LEAD's stringent onboarding process. Dick and his team hire candidate workers through a multi-step Mechanisms of Service Excellence process that focuses on the specific needs of the client and sends candidates through a proven verifications and screenings. This is followed up with a hands-on approach throughout the job placement procedures, and continued support with project management during the candidates' time on the job site.
"When people ask what can a staffing agency do for me, my answer is that LEAD New England will allow you to get your work done and maintain profitability while maintaining the peace of mind that the best candidates possible are being selected," Dick said.
To learn more about how to win-win-win with LEAD New England, call Dick at 508-801-3755.