Spring into Safety
Spring into Safety with National Ladder Safety Month.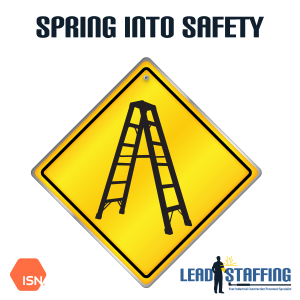 As part of LEADS continuing commitment to Safety awareness, we have included some basic ladder safety tips.
Always use three points of contact while using a ladder
Inspect the ladder before each use
Ensure that only one person is on the ladder at a time
Select and use the correct ladder for the job
Ensure the ladder is placed on a solid and level foundation
Providing a safe working environment is one of LEADs most important priorities, one that is in everyone's best interest. We carefully screen our applicants to ensure that they complement our safety goals and yours.
Lead Staffing is a proud member of ISNet World. ISNetworld is the global resource for connecting corporations with safe, reliable contractors/suppliers from capital-­‐intensive industries. ISN's Review and Verification Services (RAVS) is the industry-­‐leading provider of conformance verification. In the case of LEAD our RAVS score was 100%.
Having a solid safety program in place and partnering with ISNet World eases hiring managers concerns with safety. Let Lead Staffing handle all of your placement needs.To learn more about ISNetworld visit: www.isnetworld.com