Recruitment Trends for this Year
LinkedIn has released their annual Global Recruiting Trends 2017 report. Based on a survey of 4,000 corporate talent acquisition leaders across 35 countries, the report was created to help us understand how recruiting leaders perceive the importance of their teams, the top metrics and priorities they track, how they spend their budgets, and where they'd like to invest in the coming year.
The following 7 trends will define the recruitment industry of 2017: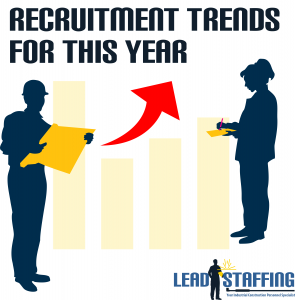 1.  Recruiters say that talent is there number 1 priority.
2. The majority of recruiters say hiring volume will increase in 2017.
3. The top 3 roles recruiters will be hiring for are:
Sales
Operations
Engineering
4. Recruiters will look for employee referrals, third-party website or online job boards and social media networks for recruitment leads.
5. Traditional tactics will come back around for talent acquisitions:
Job boards
Recruitment agency costs
Recruitment tools
Employee referral program
Recruiting events
Employer branding
6. If money didn't matter leaders would invest in:
New technology
Better sourcing tools
Employer branding
7. The most important trends that will define the future of recruiting are:
Recruiting more diverse candidates- This starts with creating a culture that thrives on diversity.
Soft skill assessments- Recruiters will use self-assessment tools like Myers-Briggs to access candidates.
Innovative interviewing tools- Sourcing the best candidates, recruiters will have to use innovative tools like video technology, text messaging etc. 
Need top notch talent? Look no further, Lead Staffing is your Industrial Construction Personnel Specialist.