National Safety Stand-Down Week 2019
The industrial and construction fields are filled with dedicated professionals who work hard every day to turn dreams into reality. This week, more than ever, we recognize the importance of safety in these workplaces. The National Safety Stand-Down has been created to focus on the importance of "Fall Prevention." During this week, employers are encouraged to sit down with their team to discuss job hazards, protective methods and the company's safety policies and goals. Taking time to emphasize ways to prevent fatalities and injuries in the workplace can have a drastically positive overall effect.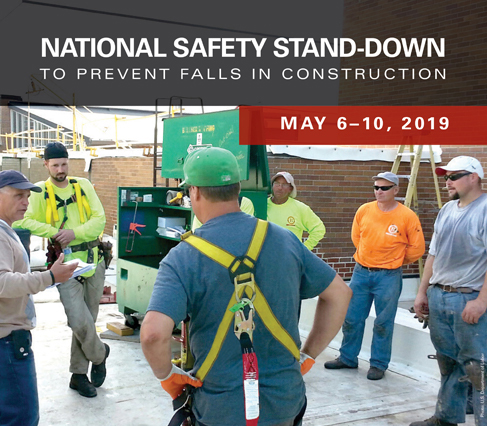 Any organization interested in preventing hazards in the workplace is welcome to participate in the Stand-Down. Companies of all sizes, usually within construction, government, contracting and manufacturing have participated in the past. There is no limit on the importance of safety in any workplace, especially these.
Whether your Stand-Down includes a break to examine safety procedures and potential hazards, a safety equipment inspection or developing a rescue plan, this is a highly encouraged method to prevent accidents and protect your team. One specific topic to highlight is preventing falls from elevation. Here are a few ways to avoid falls in the first place.
Implement a Protective System
One of the most important protection systems for falls is a guardrail system. There are some provisions for these systems created by the OSHA. Toprails, midrails and screens are essential prevention methods for falls, and when kept up to standard, should be very effective. Consider installing a guardrail system for elevated work if there is not one already in place. Safety net systems are another effective way to protect a victim of a fall from an elevated surface as well.
Personal Fall Arrest Systems
Rather than creating a structural system, personal fall arrest systems consist of anchorage, connectors and a body harness to stop a worker from falling. This system is appropriate when a worker cannot fall more than 6 feet, nor contact a lower level.
Snaphooks, lifelines, lanyards and straps are a few components of functional personal fall arrest systems. Similarly, positioning device systems support workers on elevated surfaces and can be used in conjunction with other safety systems. 
Carry Out Inspections
There are many other systems that could be put in place to prevent falls and protect workers, but safety materials and systems are only helpful if they are in working order. To ensure the safety of workers, these materials and systems must be regularly inspected to certify their effectiveness.
Train Consistently
Even with properly operating systems, a worker who does not know how to use them correctly is still at risk. Training employees to use equipment correctly and practice preventative measures to stay safe is just as important as implementing systems themselves. Continuous training is key to keeping all employees as safe as possible.
A considerable lapse in training can be dangerous. Ensuring that workers are consistently and correctly educated can be the difference between life and death. This means that it is equally important to utilize knowledgeable trainers to teach workers up-to-date procedures.
Combining all of these processes to prevent accidents and promote safety in the workplace can radically change the demeanor and effectiveness within your company. Participating in the Stand-Down also gives you the opportunity to gather valuable feedback from workers who utilize these processes on a daily basis. Every company is different, and every worksite is unique. Building a safe environment for employees is not always a simple task, but it pays off in the end.
Lead Staffing, established in 2010, specializes in Construction, Industrial and Marine Staffing of Skilled Tradespeople throughout the United States of America. Our goal is to work with regional and national contractors that share our commitment towards safety and to provide long term rewarding work assignments for our valued employees.