How to Stand Out in a Skill Trades Interview
Applying for jobs can be overwhelming in and of itself. When you consider the number of candidates vying for the same position as you, it only adds to the stress. Knowing the best ways to stand out in a crowded environment could be the difference between landing a job or trudging through another round of applications. Here are some simple ways to ensure hiring managers will notice you.
Highlight Your Experience
Catering your resume specifically to the position you're applying for is essential for any job in any field. Making it clear to a hiring manager that you have precisely what the job description is asking for makes it easier for them to consider you for the position in the first place. As a craftperson, it is necessary to highlight your experience and skills as well.
When working in the industrial and construction fields, there are varying requirements for levels of education, certifications and licenses depending on your job. That's why in these fields especially, fleshing out any education, work experience or related training can make you stand out.  Many candidates in this field also leave their soft skills off of their resume. Big mistake; adding this as a focus shows hiring managers that you are different from every other applicant. In today's job market, soft skills are valued highly, and in blue-collar work, they are a rare find. Qualities as simple as communication, attention to detail and time management can make a huge difference.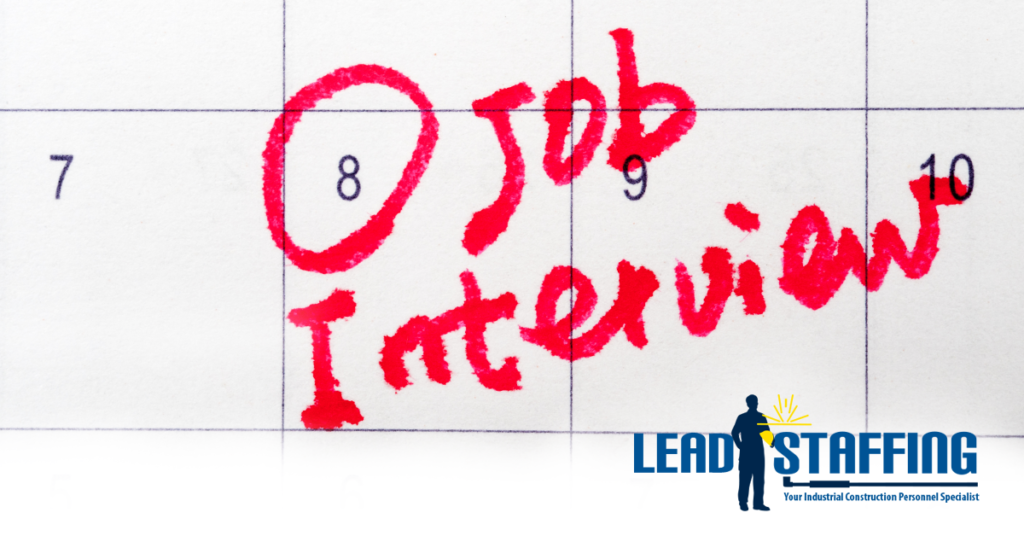 Always Be Honest
On the same note, adding soft skills to your resume is only a benefit if you can back them up. If you claim to be a great communicator but your references from previous jobs claim that you don't respond to emails and don't interact well with your team, it's highly unlikely that you'll be hired. You've heard it before, but we'll tell you again- honesty is the best policy.
Employers do their research. Be sure that your resume matches your actual job experience, or you could lose out on an opportunity for something as simple as dishonesty. Be prepared to give examples of the skills you have, explain your background thoroughly and prove to the hiring manager exactly what you claim to know.  If you are an accomplished welder be sure you have your log book readily available along with a listing of recent weld tests and certifications verifying your skill level.
Come Prepared
There are some things you can expect from nearly every interview you'll ever have. Almost all hiring managers will ask what you know about their company and if you have any questions. If you don't have much to respond with, your interviewer will not be impressed. Luckily, these are both easy obstacles to prepare for!
Check out the company online before your interview. Look to see if the company belongs to any memberships in the trade industry such as ABC, ISN, etc. Read up on what they do, what's important to them, and precisely what the position is that you're applying for. During this process, take note of any questions that come to mind. Dive into the company values, what you can expect from this job, and even ask what will make you stand out; once again, being straightforward will pay off. Bringing this list of questions with you to the interview will be an immense help. 
One other extremely simple way to prepare for the application and interview is to proofread your resume. A spelling error can become a glaring mistake- especially if you claim to pay close attention to detail. Sending your resume to a friend or colleague is always beneficial, as a set of fresh eyes often catches mistakes that you may not have noticed.
Lastly, if you interview is going to take place on the construction job site come dressed as you would dress for working in the field.  Have any tools of your trade with you available for inspection.  This will demonstrate to the prospective employer that you are serious by your trade and are ready to go to work. 
If you weren't already convinced to implement these ideas in your job search, mull this over: according to a report last year, 240,000 jobs were added to the construction industry in 2018 alone. There is no doubt that the need for workers in the field are expanding and using these tips to combat the influx of other candidates in the industry can be make-or-break.  
Lead Staffing can help you in your search for a rewarding career in the construction, marine and industrial fields.   Last year we helped our contracting customers in over 22 states. Lead Staffing, established in 2010, specializes in Construction, Industrial and Marine Staffing of Skilled Tradespeople throughout the United States of America. Our goal is to work with regional and national contractors that share our commitment towards safety and to provide long term rewarding work assignments for our valued employees.