Florida is One of the Best States for Shipyard and Shipbuilding Jobs
Florida is one of the nation's top states for shipyard and shipbuilding jobs, according to Florida Maritime Partnership. The LEAD Marine Jacksonville staffing agency specifically focuses on contributing highly skilled workers to this important sector of the state economy.
LEAD Marine Jacksonville Specializes in Staffing Shipyard and Shipbuilding Jobs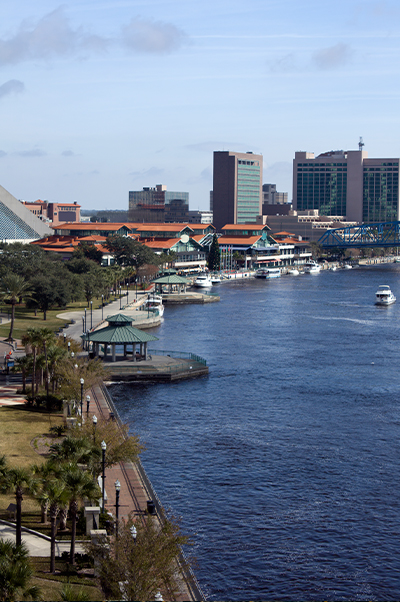 "We know the importance that shipbuilding and shipyard jobs have for our communities in Florida," said Chris Patterson, LEAD Marine Jacksonville's Project Manager, "We specialize in staffing marine industry positions ranging from structural welders to entry level opportunities, always with the goal of keeping our great state's shipyards running at the top of their game."
The sports analogy is fitting for Chris, a record-holding college football player who's taken his competitive drive to succeed and turned it into a highly affective career in sales, recruiting, and staffing, and it's also fitting analogy for the nature of the shipyard and shipbuilding building.
"Football was all about teamwork and building up the players to your left and your right," Chris said, "And a lot of the same principles and skills apply when staffing marine industry positions. For large projects like shipbuilding and ship repair to succeed, teamwork, communication, trust, and responsibility are absolutely crucial to getting these jobs over the finish line, and sending safe, reliable ships out to our mariners at sea."
Chris's team at LEAD Marine Jacksonville focuses on providing the best experience for their clients who hire one of their staff members to take on one of the many jobs regularly filled by the Florida branch. When Chris joined LEAD Marine Jacksonville, he continued developing its culture of treating every client's project as an individual problem to be solved, and also fostered his own brand of leadership and teamwork that drew on his lifelong experiences of overcoming challenges to focus on how his office's responsibilities fit into the wider picture of community, state and country.
"We're providing personnel to projects that are extremely high stakes," Chris said, "And we thrive on that responsibility. Every member of our team is here doing what we do because we know we can do it best. We're in the business of matching skilled people to difficult jobs that have to be done right, every time, because that's what keeps this world turning. It's a responsibility we take extremely seriously."
LEAD Marine Jacksonville Prepares Marine Industry Workers Ahead of Time
Clients from the shipyard and shipbuilding industries that approach LEAD Marine Jacksonville for personnel are walked through all the steps that go into hiring and placing them with the right staff member for the job. The work that goes into this process behind the scenes is extensive, involving a screening process of verifications, drug and competence testing, and more, so that Chris and his team know that they're putting the right people together.
"What the client wants to get done is our starting point, and we go from there," Chris said, "We take into account things like the protection equipment required, our clients scheduling needs, travel needs and more. In terms of matching workers to jobs, how we run that play really depends on the specifics of each project, and we put our client's specific needs into our playbook and send them the perfect worker to get that job done right."
Football is a rough game and requires training, protection and know-how to stay safe, and shipyard and shipbuilding jobs are similarly safety-oriented. Chris's team only sends their clients workers who have gone through LEAD Marine Jacksonville's rigorous safety training and education, and who have met all of the onboarding requirements. In addition to those Patterson mentioned above, these include a full review of application and work history, verification of trade licenses and credentials and a skill set evaluation, a seven-year background check, and any specific verifications the client needs to address.
LEAD Marine Jacksonville is Backed by a National Staffing Network
In addition to filling marine jobs in Florida, Chris's office also has a geographic reach nationwide, and regularly fills shipyard and shipbuilding positions for fitters, riggers, machinists, carpenters, marine electricians, and pipe welders, in addition to those mentioned above, as well as a variety of non-marine related jobs.
"This industry is a team sport," Chris said, "And on a team trust in each other is absolutely crucial. Part of being a good team member is fostering that trust by your own conduct, holding yourself to our own high standards, and doing everything to the best of your ability so you're ready to go at gametime."
Gametime, for LEAD Marine Jacksonville, comes when the client calls. It's gametime: 904-4633-5023.