We are More Than a Vendor but a Trusted Staffing Partner
Too often, staffing and recruiting professionals are regarded as a vendor instead of a partner or trusted advisor. At LEAD Staffing, we want to help you fill more than your next opening on the list, and offer guidance and insight in reaching your hiring goals.
We offer strategies to our partners and are your trusted advisor.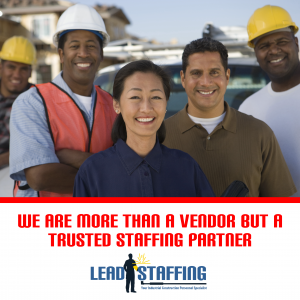 How do we do this?
1. We evaluate your needs.
We understand your industry by staying abreast of trends. As your advisor we ask questions that help us understand your priorities and offer in return valuable strategies.
We target and employ men and women who have knowledge and background in the related fields of our clients' needs. We look into each individual and rate them on a scale, as if we were hiring them for our company full time. But, most of all we employ individuals in the office (liaisons) that have extensive knowledge in the construction industry as well as other fields. This is the reason we can answer questions for both employees and clients to develop a comfortable and smooth transition.
2. We customize our services for you. Our goal is to help you balance your fixed workforce with our interim staff to allow you to be more productive.
We don't tell you about what services we offer, we ask what services do you need? From contract to temporary or seasonal we are flexible to meet your needs and goals.  We have evolved into a company with the mindset that team work and perseverance that will make our staffed employees and customers successful to provide all involved piece of mind knowing that Lead Staffing has their best interests in mind.
3. We develop a lifelong relationship.
At LEAD Staffing, our goal is to form lifelong friendships and relationships by providing valuable information and insights. We want you to recognize us as your trusted advisor/partner.   As your staffing partner we can provide you with valuable.
We are ready to provide a viable solution and become your partner today. Learn more about our difference at leadstaff.com/our-difference.
4.  LEAD Staffing can be an effective risk management tool.
With LEAD Staffing you can balance your workforce and also the risks associated with hiring a new employee.   Let's face it, no matter how many interviews you may have with a prospective candidate you really will not know how what their work ethic is or how they will jell within your workplace until you hire them.  The beauty of a temp to perm arrangement is it allows you to try out a new person in your work environment.  Additionally, if you decide not to hire the candidate you eliminate the risk of a state unemployment claim as which can adversely effective you experience rating.  Also, especially in blue collar environment, you eliminate the risk of having a workers' compensation claim during the time the staffed individual is an employee of the staffing company.
LEAD Staffing offers many nationwide staffing solutions ranging from traditional temporary staffing of skilled craftspeople to direct placement with flexible payment terms.   Please call Mark Curtiss, President of LEAD Staffing directly at 813 513-0834 with any questions you may have.