National Staffing Employee Week AWARDS 2020
During this special week of recognition and honoring contract trade associates, LEAD presented awards to employees across the country.
While ALL LEAD associates are daily appreciated, these awards represent a deep appreciation by LEAD for extra effort put forth by associates which contribute to the overall well-being of our clients, our company, and the exemplary dedication to their individual trades.
With that being said, below are the awards that were presented this week…
Ray Montalvo, Tampa, FL
Ray has been on a project for LEAD in Tampa for approximately one year.
Unfortunately, Ray's supervisor twisted his knee and will be out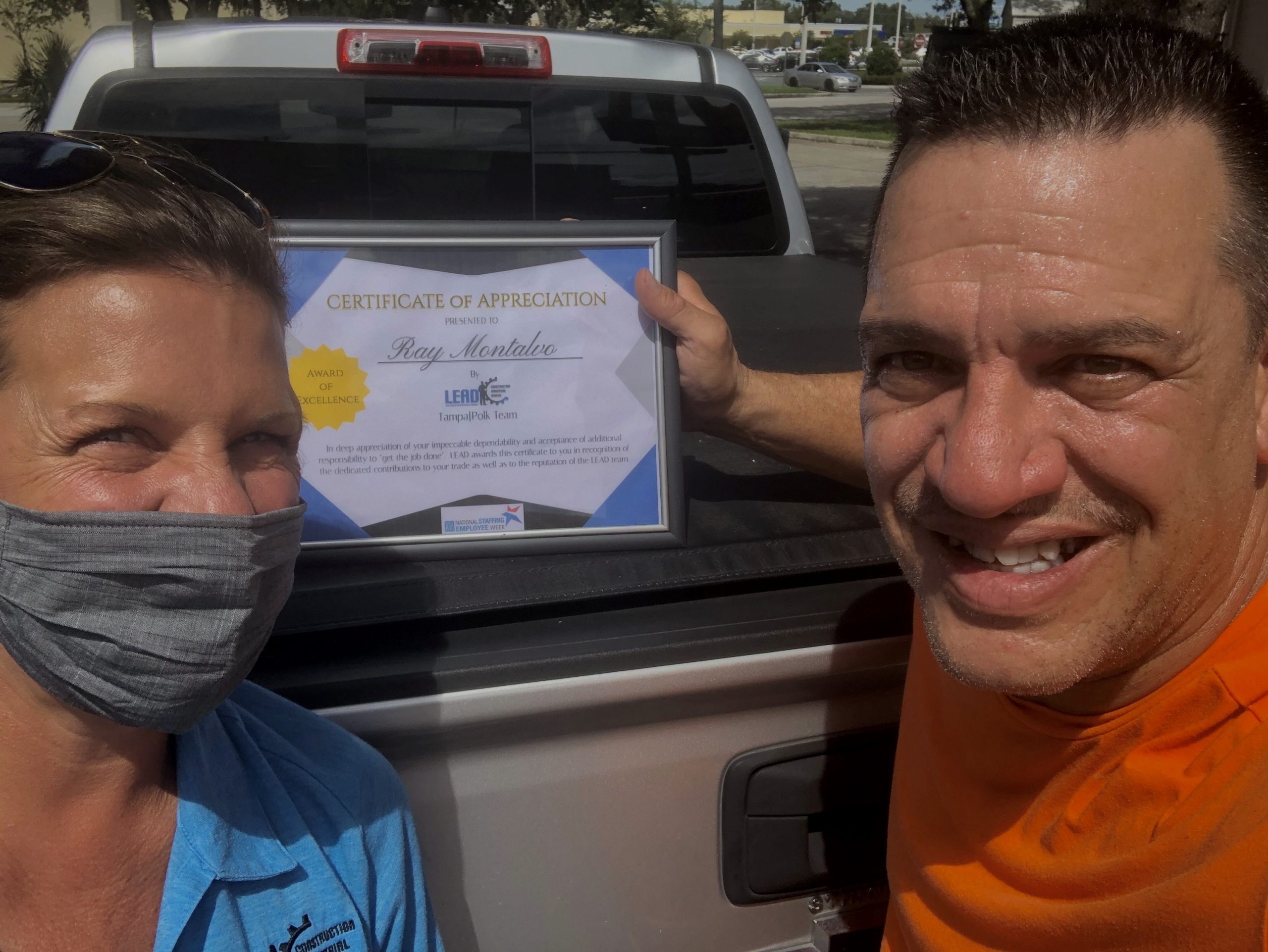 for the remainder of the project.
Ray's work ethic, dependability as well as his overall skill and thoroughness propelled him into the vacant supervisor-on-site role.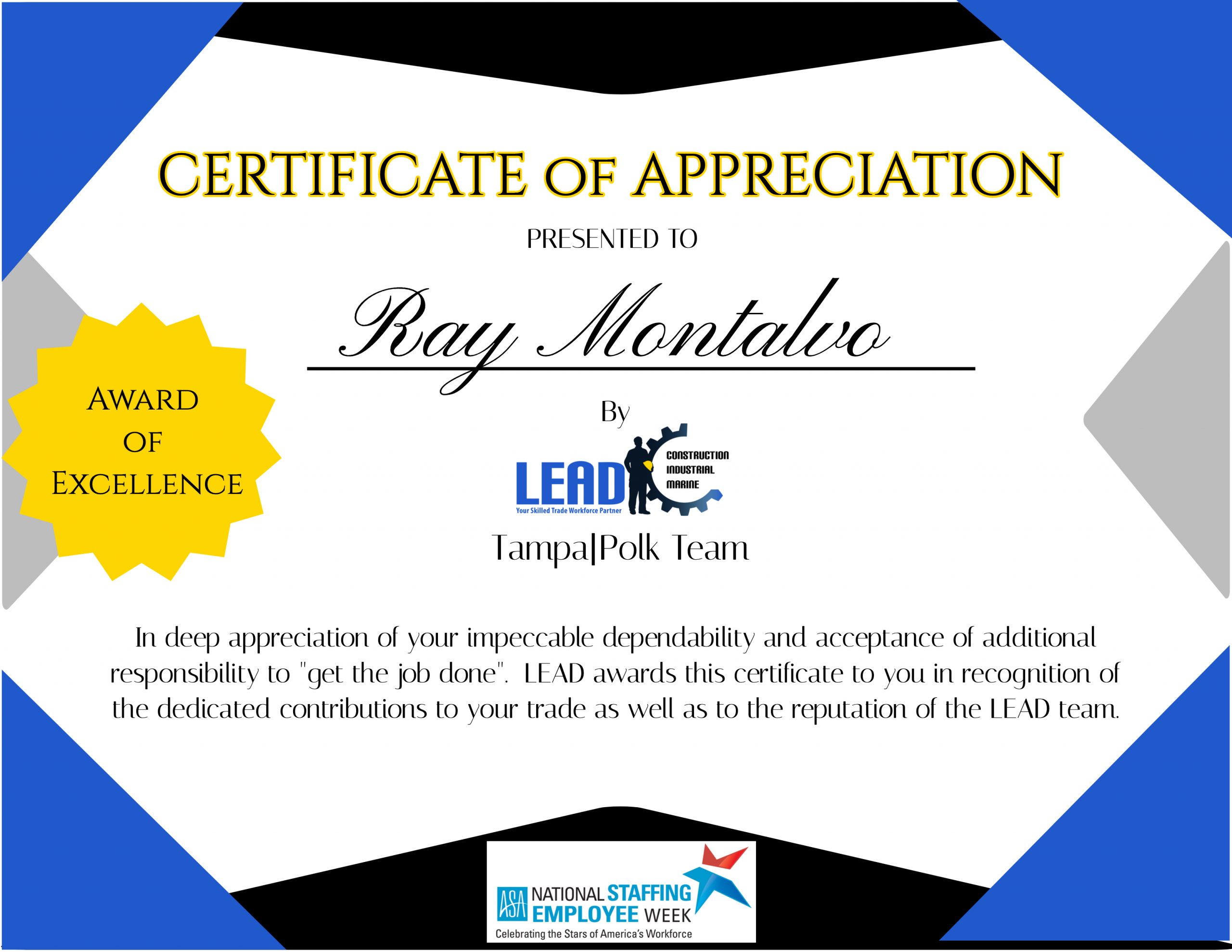 The responsibility put on Ray has been significant.  In his everyday practice and routine, Ray has accepted the responsibility with absolutely no complaint.  In fact, he has embraced the role wholeheartedly and always has a smile on his face!
Because of Ray's contribution to his trade, the project and to LEAD's reputation as a premier provider of skilled trades in the Tampa and Polk County region, LEAD awards him this certificate as a small token of our appreciation and recognition of his accomplishments.
Keep up the great work, Ray!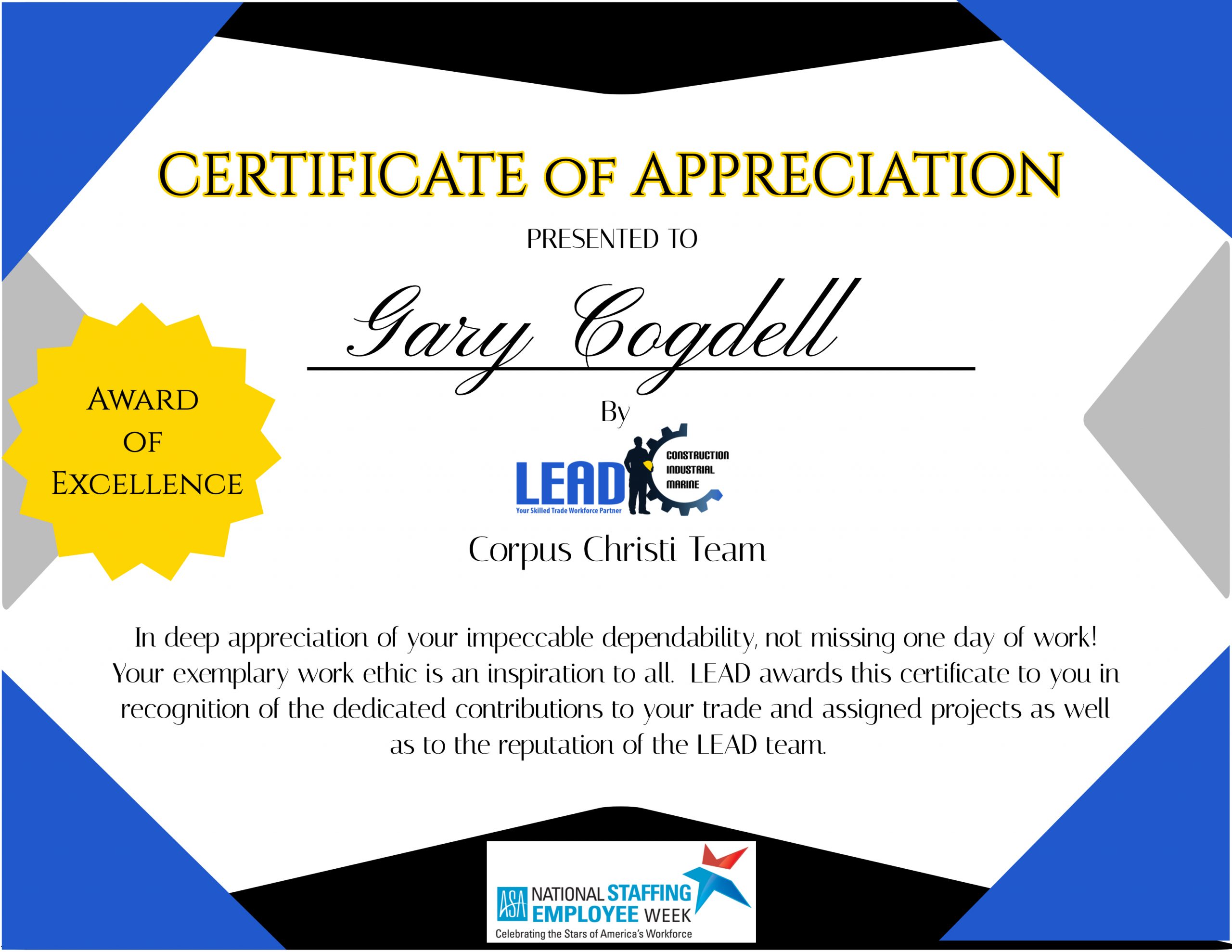 Gary Cogdell, Corpus Christi, TX
Gary has been working with LEAD for over a year. As a daily practice, he represents what LEAD, as a company, stands for:
Integrity, Safety, Energy, Leadership, Dependability and Ability.
It is difficult to show adequate appreciation to someone who has never missed a day at work or been late.
But the Corpus Christi team found a way!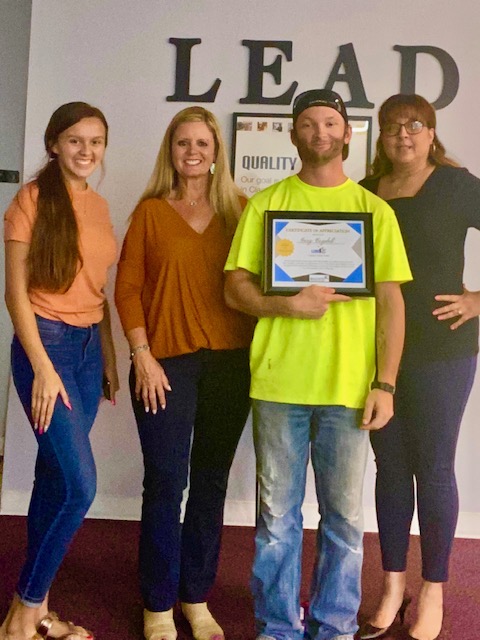 Gary's dedication to his trade, his work ethic and documented dependability gave the team confidence to place him on an important project/assignment that has resulted in a new career with great pay, benefits and a bright future!  What a great way to thank a dedicated associate!
The Corpus Christi team rewarded Gary today with a gift card, certificate of our appreciation and other goodies!
From left: Kiersten Lopez, Office Assistant; Barbara Lopez, Regional Manager; Gary Cogdell; Rose Mary Hinojosa, Project Coordinator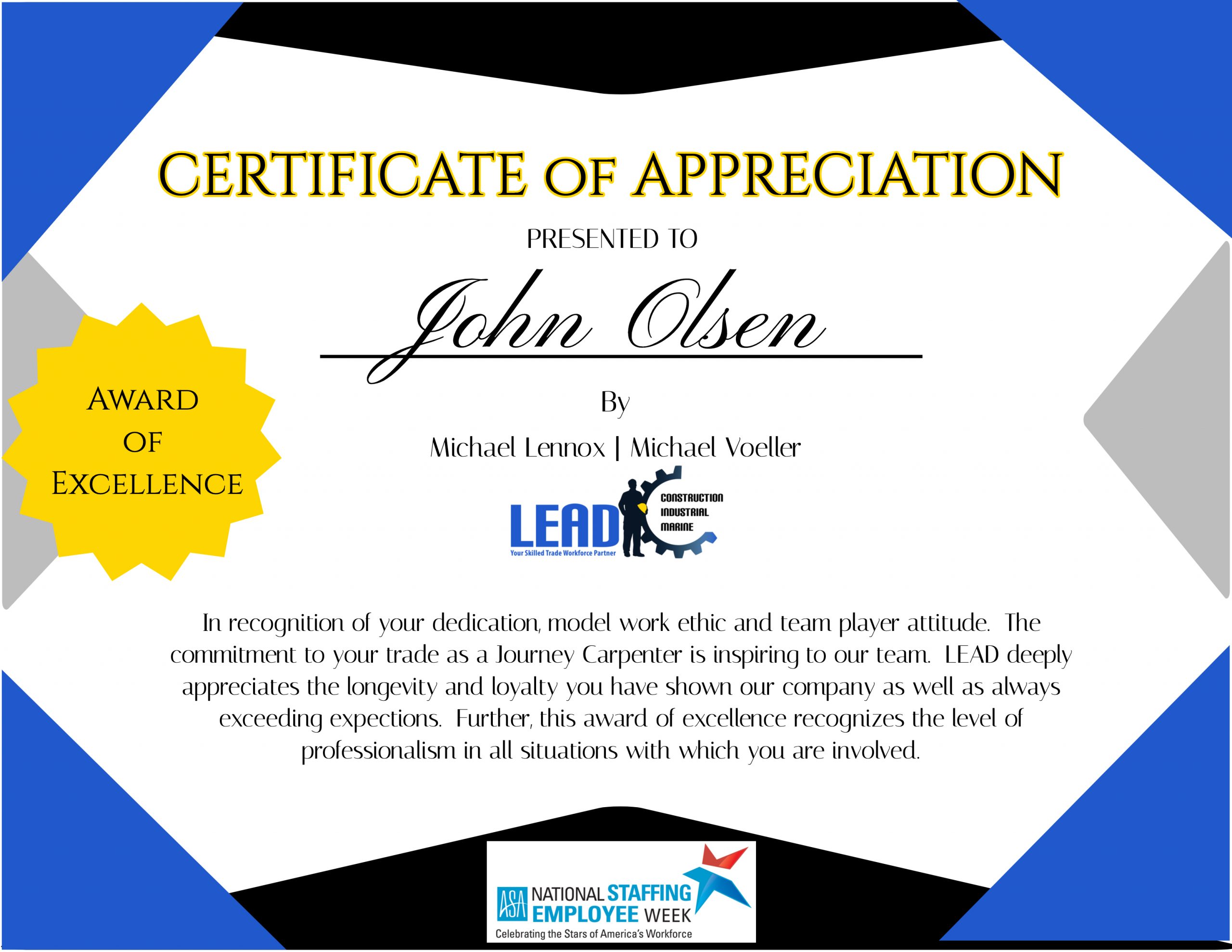 John Olsen, Seattle, WA
John is a Journey Carpenter that has been a LEAD associate for over three years.
John meets all criteria of a "model" employee   and always surpasses expectations.   His ability to follow project directives is exemplary.
LEAD's orientation process encourages professionalism on the job at all times;  John interacts with clients, co-workers, the LEAD team and all with whom he comes in contact on that level.  He possesses a noticeable adeptness at customer service, courtesy and professionalism.
He is a favorite of many clients of the LEAD Seattle region and is usually the last one to leave every assignment.
Thank you, John…. we appreciate you and look forward to working together for many more years!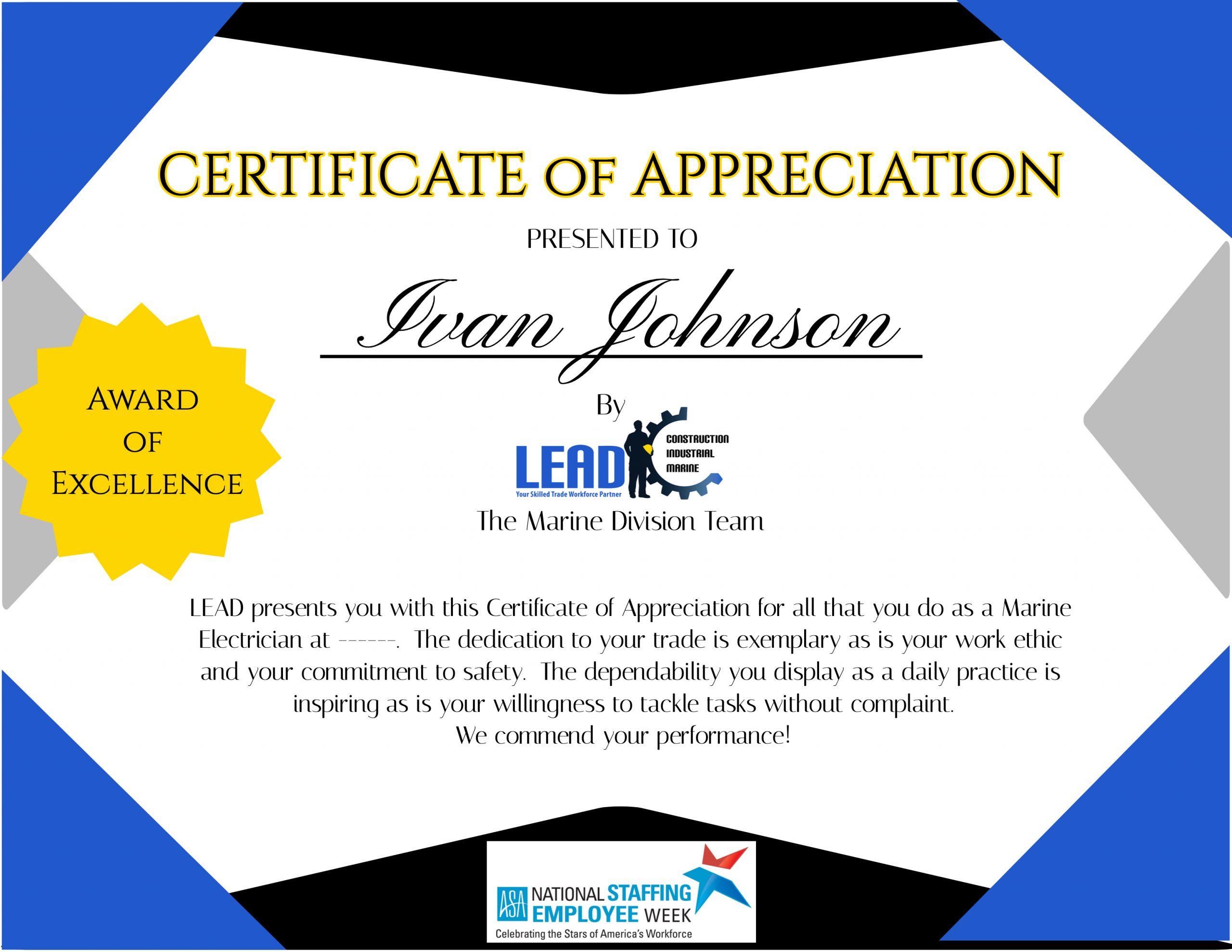 Ivan Johnson, CA Marine Division
As a Marine Electrician at one of LEAD's large clients, the dedication Ivan shows to his trade is commendable.  
His dependability is an inspiration to all with whom he works.  His willingness to tackle tasks without complaint ideally represents values which LEAD seeks in all associates.
This Award of Excellence is presented to Ivan as a representation of our appreciation of his high performance.
Thank you, Ivan!  Keep up the drive to excellence!
Robert Hanson, CA Marine Division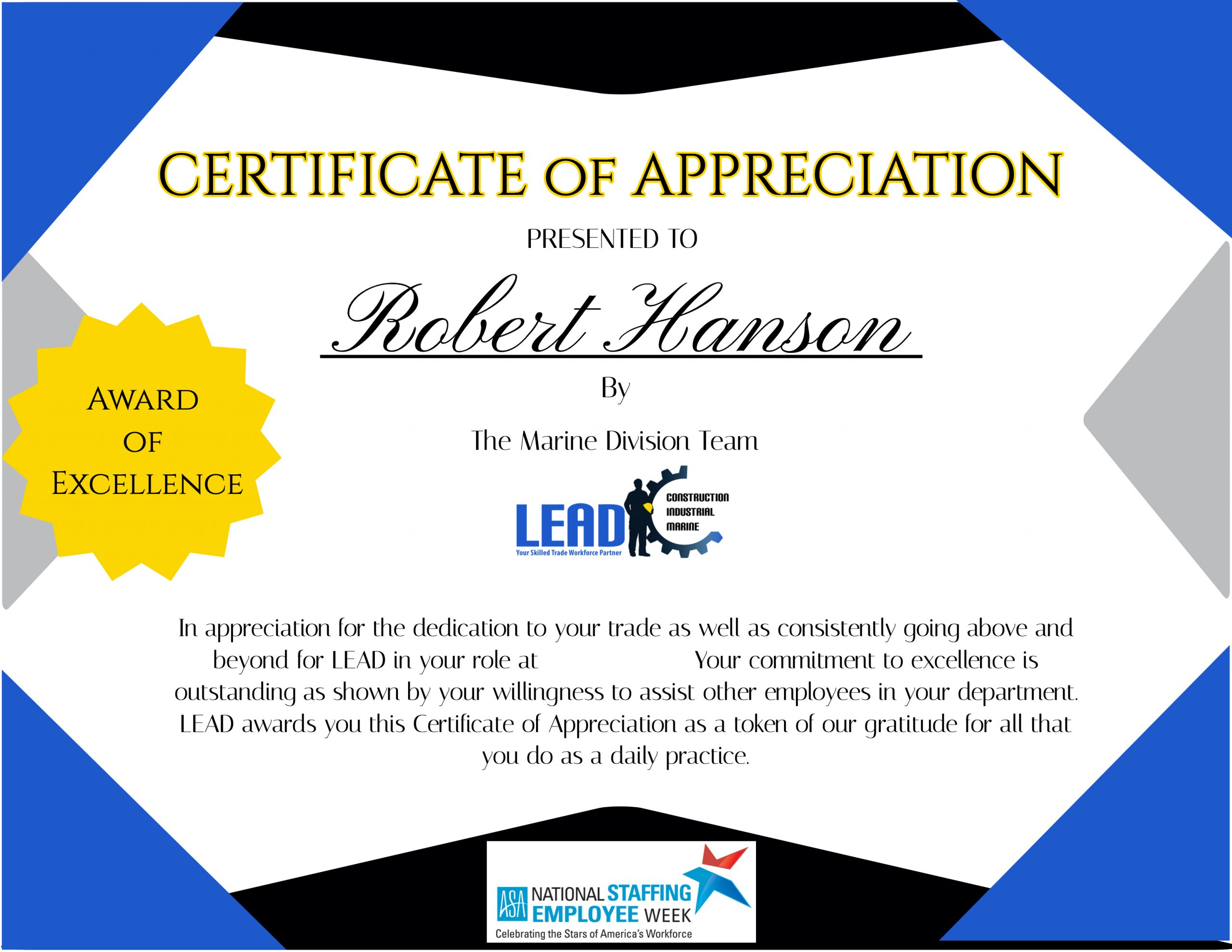 Robert is one of those employees who consistently goes above and beyond in his assignment with LEAD.
His commitment to excellence is outstanding as shown by his willingness to assist other employees within his department.
LEAD is impressed by Robert's daily performance and the feedback which is regularly given by his supervisor.
Therefore, this Award of Excellence is presented as a token of our gratitude.
Thank you, Robert! We appreciate all that you do!
Fred Carlsen, Boston, MA
Fred is a licensed journeyman electrician and has worked with Dick McLaughlin, LEAD's Managing Partner in the New England Region for over 6 years.  Through Fred's commitment to service excellence in the field he has garnered the reputation as a leader and the "GO TO" person for complex electrical construction projects.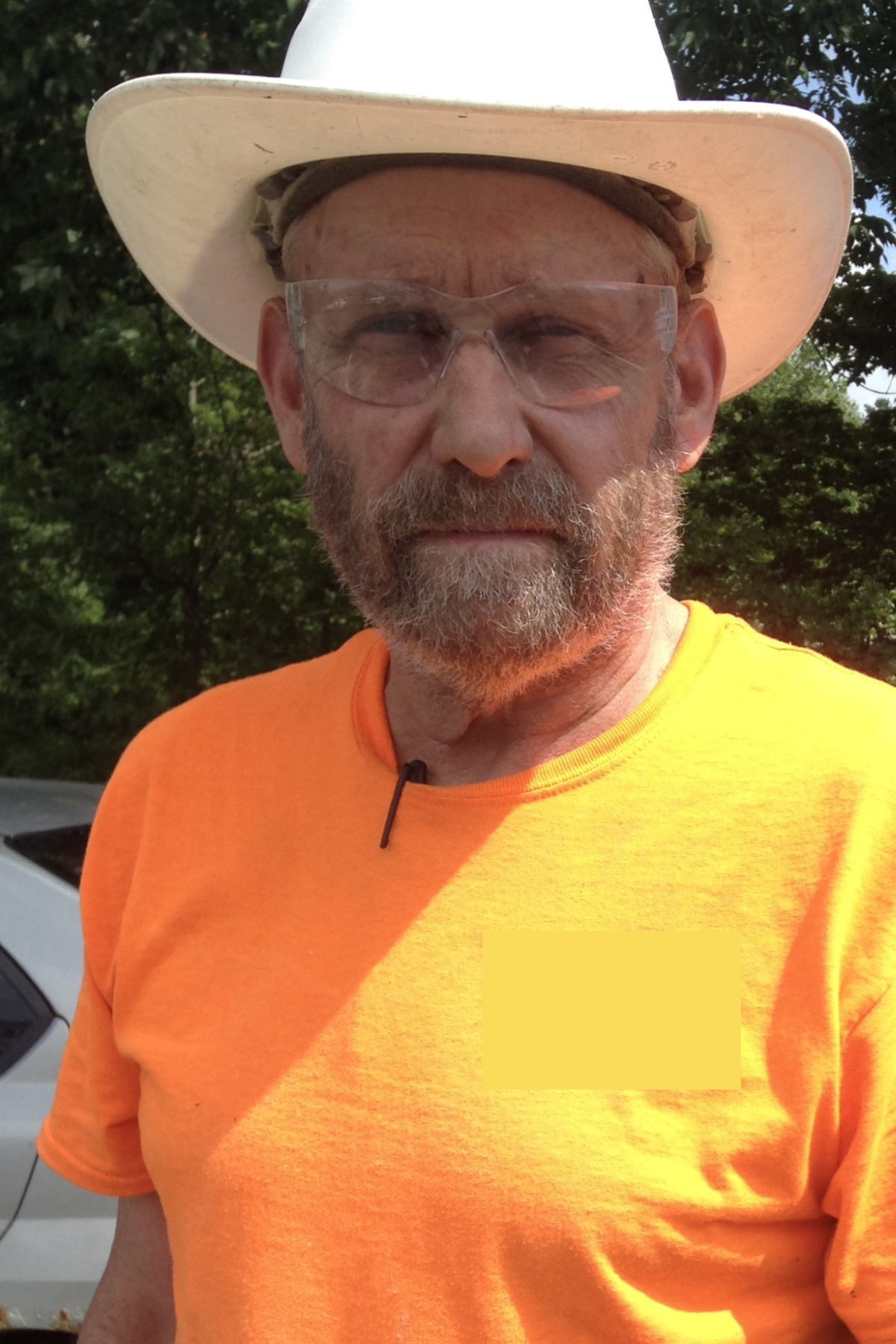 Fred has quickly become a fixture on various LEAD job sites; depended upon to complete projects which help LEAD's customers maintain profitability.
Recently we spoke to Fred about his tenure with LEAD, and he articulated his response with gratitude for keeping him working steady, with no down time and also keeping him local to his home, allowing him and his wife Amy to balance their work and home life with ease.
"Having worked with a variety of organizations during my career, I have experienced much and bring best practices to current and future customers of LEAD, creating efficiencies and increased profitability for their clients!" —Fred Carlsen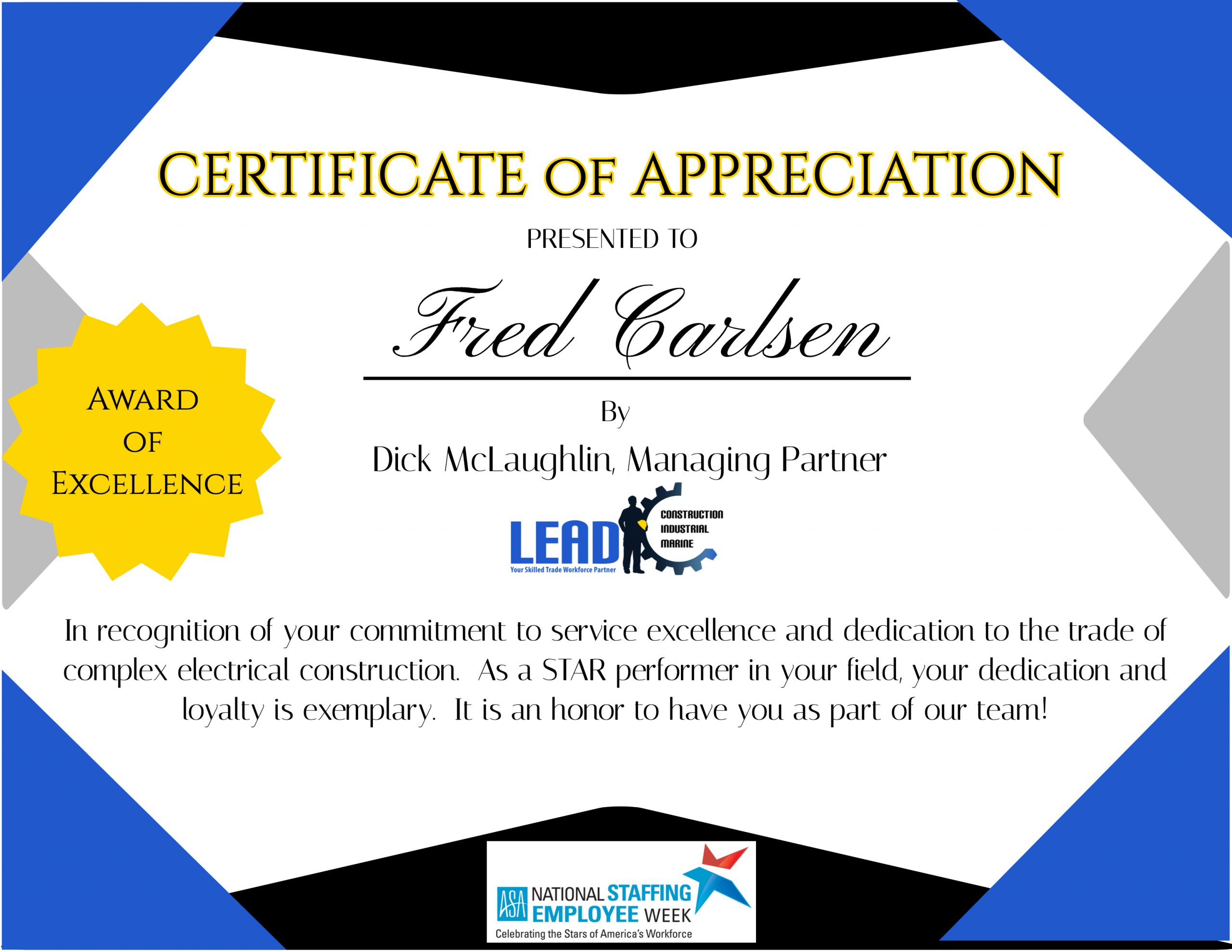 "I can't express how appreciative I am having Fred as part of the LEAD organization in New England. He has helped build our reputation in the marketplace as the superior provider of supplemental electricians in New England.  Because of this, we award him this Certificate of Appreciation!"                                                                      –Dick McLaughlin|Managing Partner
Artie Thompson, Boston, MA
Artie Thompson has been working with Dick McLaughlin, LEAD's Managing Partner, in the Boston area for almost 10 years.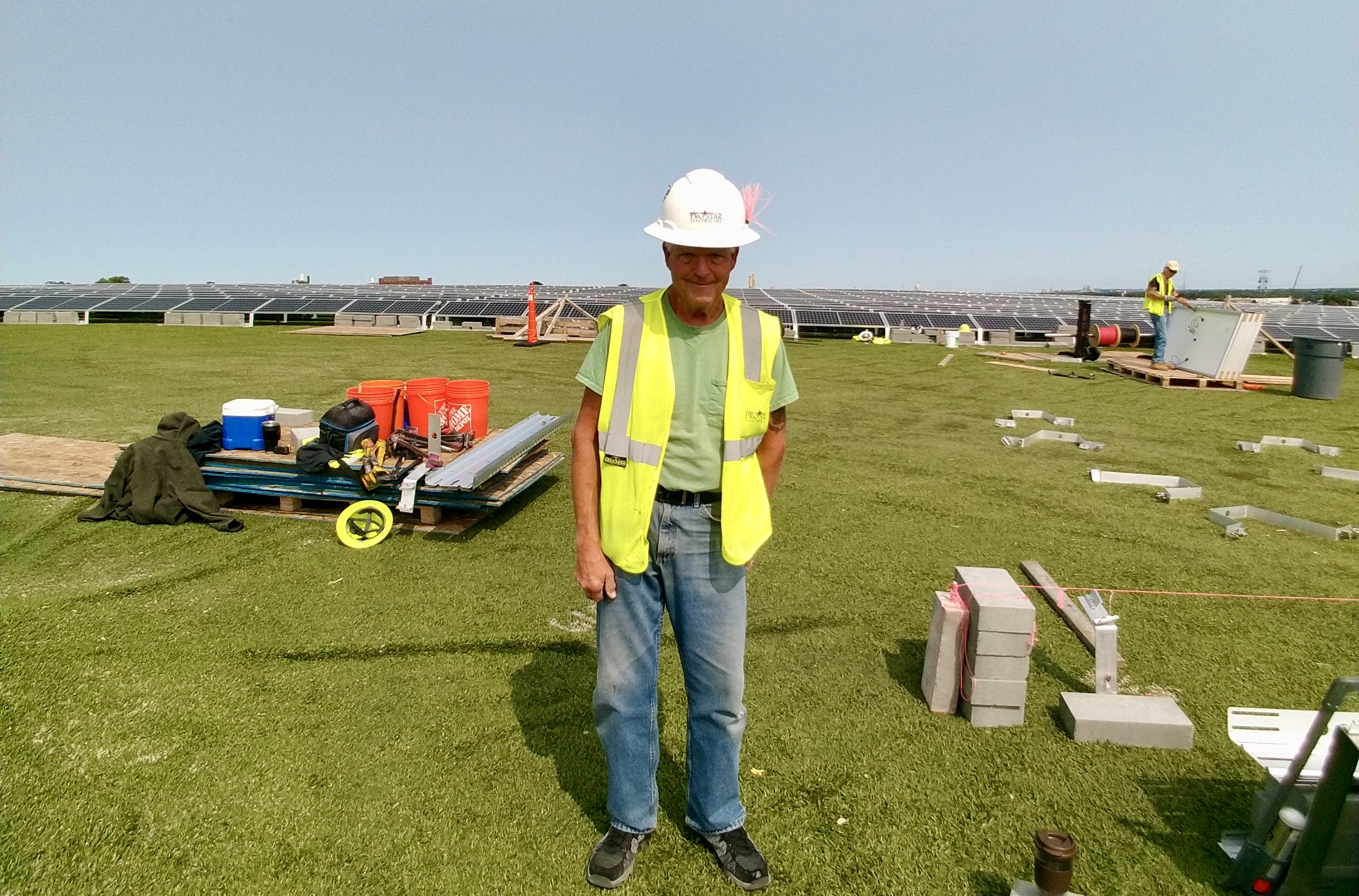 Artie's skill, dependability and knowledge are essential requirements for the completion of a client's construction project in a safe, timely and profitable manner.
Artie's work ethic combined with customer service skills has contributed significantly to LEAD's reputation as the employer of choice in the staffing industry as well as the superior provider of skilled electricians.
"I appreciate the consistent work and flexibility provided by LEAD to work on a variety of construction projects from commercial, multi-use, and renewable energy projects."   –Artie Thompson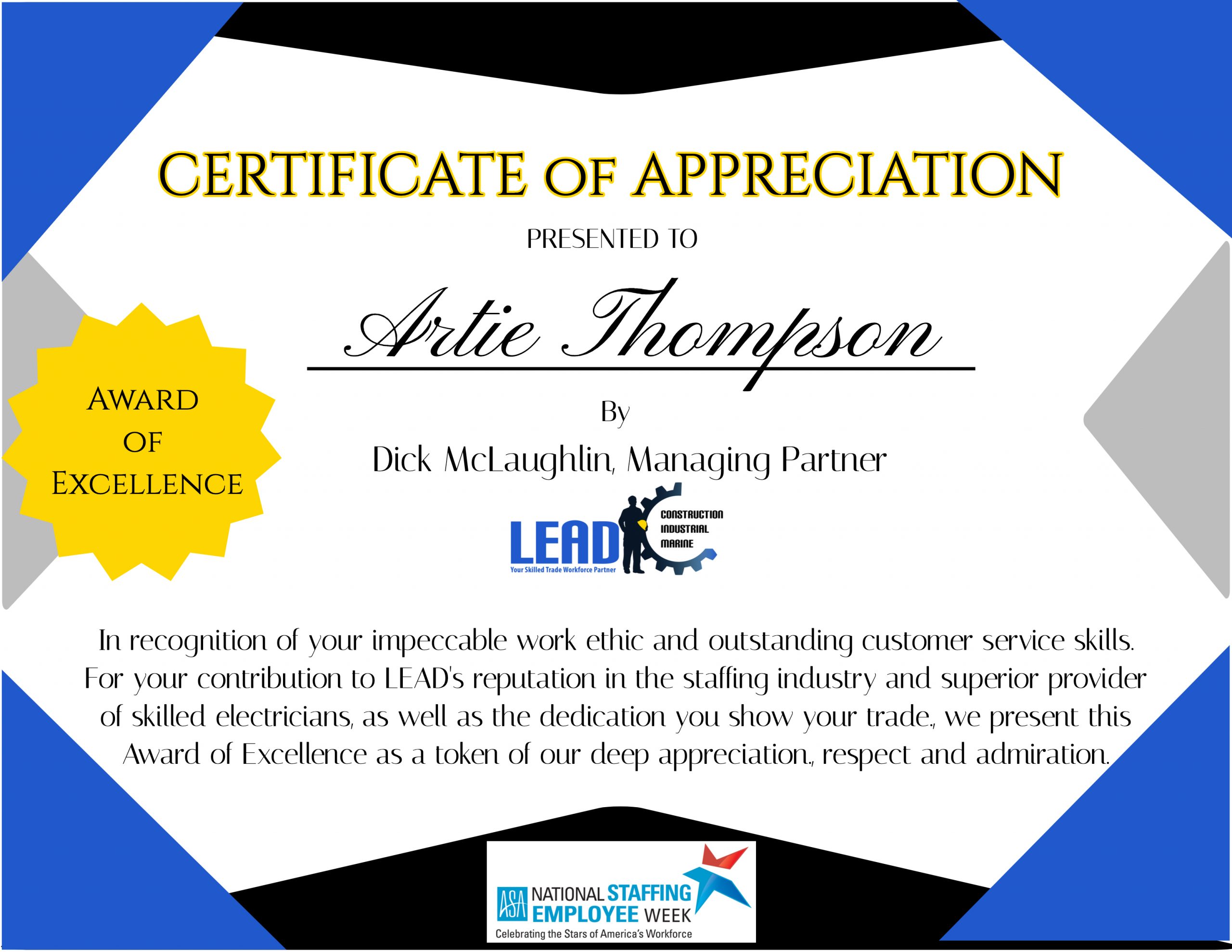 "Artie has earned my full respect, admiration, and appreciation and because of this we award him this Certificate of Appreciation!"
–Dick McLaughlin|Managing Partner