LEAD Seeks Top Marine Talent in San Diego
The next time you sit on a bench, you may be sitting on a LEAD for a new job – in the maritime industry! LEAD Marine has launched an advertising campaign, including ads on bus benches throughout San Diego in search of the top marine talent to join LEAD.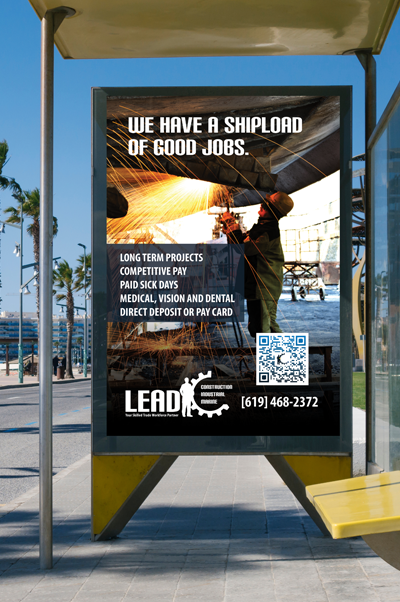 Now Hiring Top Marine Talent
Alan Biliti, Marine Division Sales and Recruiting Manager, says, "There are plenty of jobs available for qualified workers with trade skills who are prime candidates for the maritime industry. Jobs are available for licensed marine engineers and skilled machinists, welders, electricians, and more!"
According to San Diego Workforce Partnership, high inflation and extreme housing costs have not slowed the soaring demand for labor and employers should expect the price of labor in San Diego to continue to grow. This economy presents an opportunity for skilled industrial and marine workers seeking jobs. Alan says, "Job postings continue to far outnumber job applicants, indicating it is still an 'employees' job market."
Meet Alan Biliti, Marine Division Sales and Recruiting Manager
Since Alan joined LEAD Marine, the staffing company located in National City, CA has experienced exponential growth. Prior to his role at LEAD Marine, he served in the United States Navy as a Gas Systems Mechanic where he traveled through the South Pacific Seas helping train Philippine sailors on decommissioned US ships. Alan's maritime knowledge is part of the reason he excels in finding qualified industrial and marine trade workers for LEAD Marine clients.
Long Term Project Employment Opportunities
In its latest promotional campaign, recently launched in San Diego, LEAD Marine has a shipload of good jobs in need of trade workers seeking employment! LEAD, an approved and active vendor to the three largest shipbuilders in the U.S., has an abundance of opportunities for long term projects for the right candidates. Quality skilled trade workers will receive highly competitive pay and benefits including paid sick days, and opportunity for health, vision, and dental insurance. LEAD workers get paid through direct deposit or pay card.
Although LEAD is in need of advanced craftsman to work with clients in San Diego and other California locations, the workforce solutions staffing company provides a wide range of quality maritime jobs throughout the nation. Other top placement locations include Florida, Hawaii, Virginia, Washington (Seattle) and Wisconsin.
For LEAD Marine Business Partners
"LEAD Marine is an unrivaled leader in the maritime industry for workforce solutions," says Alan. "Whether it's solving staffing challenges, efficiently handling everyday hiring and onboarding activity, or ensuring employees are safety trained, LEAD combines recruiting and advance skilled trade craft expertise to bring success to our clients. We take pride in finding highly qualified workers offering innovative solutions to staffing needs especially in high level tough-to-fill positions."
LEAD Marine has proven the staffing company is a valuable asset to clients,  often hiring candidates to permanent positions with their company. "Staying on the forefront of new technologies in maritime skilled trades is an integral part of our dedication to finding that perfect candidate who is technically skilled and has good moral character which includes dedication to their craft and safety in the workplace," says Alan.
Whether you are a maritime worker with mad trade skills or a maritime business struggling with staffing, LEAD Marine is your solution. Call Alan Biliti at 619-468-2372 to start your maritime skilled trade career with LEAD Marine today!