LEAD Corpus Christi Honored with Annual Awards – President's Cup, Safety Award and Employee of the Year
Skilled trade staffing company, LEAD Corpus Christi, was honored for a stellar 2022 year with three recognition awards including the LEAD President's Cup, LEAD's Annual Safety Award, and Employee of the Year.
LEAD President's Cup
The LEAD President's Cup was awarded for the second year in a row to Barbara Lopez, Regional Manager and her team at LEAD Corpus Christi. Mark Curtiss, President of LEAD, a nationwide staffing company, explains, the President's Cup recognizes one of 11 LEAD locations for its exceptional, overall success in recruitment staffing, management operations, leadership and safety.
Mark says, "Barbara Lopez, once again, has led the Corpus Christi branch to exceed both qualitative and quantitative objectives in 2022. She is the driving force of this location. Barbara is a true leader, connected with stakeholders in the community and industry, and inspires her team to exceed their own expectations as well as LEAD's goals," says Mark. "Her ability to build a solid team of professionals that take recruiting and customer service to new heights is greatly admired."
LEAD Corpus Christi specializes in staffing industrial and commercial construction, refinery contracted positions including turnarounds, industrial and commercial skilled craft trades. "It's the dedication, commitment, knowledge, experience and leadership of Barbara and her team at the Corpus Christi location that helped them reach record revenues, more than double from 2021," says Mark.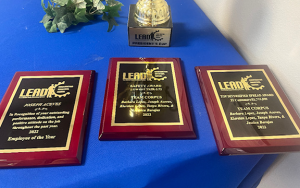 LEAD Safety Award
The 2022 Safety Award was given to the LEAD Corpus Christi branch, and includes the following employees: Joseph Aceves, Jessica Barajas, Stephanie Deleon Hesseltine, Ruth Gnirk, Barbara Lopez, Kiersten Lopez, and Tanya Rivera.
The Corpus Christi branch received the LEAD Safety Award for having the lowest total recordable incident ratio (TRIR) at 2.72 in 2022. "Safety is a number one priority at LEAD," says Barbara, who has more than 15 years of skilled trade staffing experience and is OSHA 30 safety certified. "LEAD's safety trainings are the foundation of our quality goals. We are diligent in recruiting the highest quality skilled trade workers with demonstrated safety practice and knowledge."
LEAD Employee of the Year
Joseph Aceves, LEAD Corpus Christi Operations Manager was named Employee of the Year.  Mark says, "The Employee of the Year Award is given to a staff member who goes above and beyond in demonstrating the ideals of LEAD, through their consistent actions. Recognizing Joseph Aceves with our Employee of the Year Award was an easy choice to make. Joseph is an employee who consistently exemplifies Leadership, Energy, Ability, and Dependability — the four tenets of our company's name."
Joseph is an experienced Lean Six Sigma Black Belt with a demonstrated history of working in the oil and energy industry. His skills in Lean Process Improvement, Lean Management, Continuous Improvement, and Lean Tools are of great benefit to the LEAD team.
"I was extremely honored to receive the Employee Of The Year Award. Lead has great people throughout the organization, and I'm blessed to be selected for this honor," said Joseph Aceves.
In her acceptance speech at the annual meeting, Barbara said, "Thank you LEAD so much for recognizing our entire team's efforts at LEAD Industrial Corpus Christi!! The awards our Branch received today were truly an honor! I want to give credit where credit is due and express my gratitude to all our teammates at LEAD Staffing across the States and most importantly our local branch team at LEAD Industrial Staffing for endless hours of dedication on a daily basis!"
Do you want to work with the best? If you are a company in need of skilled staffing or a skilled trade worker in search of your next job, LEAD Corpus Christi is the award-winning team who will help you with your success! Get in touch with Barbara Lopez and her team at LEAD Corpus Christi today!