LEAD Corpus Christi Encourages Participation in National Safety Stand-Down Week 2022
The National Safety Stand-Down Week 2022 to Prevent Falls in Construction runs from May 2-6, 2022 and brings awareness of safety and fall prevention in the construction industry across the country.
Educate Skilled Trade Workers on Workplace Safety Protocols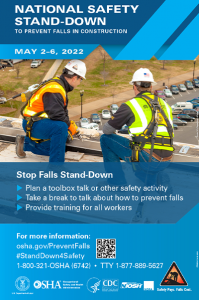 Barbara Lopez, LEAD Corpus Christi Regional Branch Manager is OSHA 30 Safety certified and encourages all businesses to participate in activities to educate their skilled workers to be aware of their surroundings and to practice safety in the workplace. Barbara explains a Safety Stand-Down is when employers take a break to hold a stand-down to talk to their skilled trade workers about fall hazards and prevention. "It is a reinforcement of safety protocols in the workplace," says Barbara.
Over one-third of the recorded construction fatalities in 2020 were preventable according to the U.S. Bureau of Labor and Statistics. "Oftentimes, it is the simplest safety practice that can be the most fatal," says Barbara who recruits and conducts safety training for the best skilled trade workers in the industrial and commercial construction industry.
Barbara outlines below the do's and don'ts when working with a ladder to remind laborers of the simplest ways to avoid injury at a worksite.
What to Do When Using Ladders
Choose the Right Ladder for the Job
One size does not fit all when it comes to using a ladder. Many workers take ladders for granted. When preparing your worksite, tradesmen should consider the right way to select the proper height ladder for the assignment. For example, Barbara explains, a stepladder's highest permitted standing level is two steps down from the top; whereas an extension ladder is 7 to 10 feet longer than the contact point with the highest standing level four rungs down from the top. "Also consider ladder grades, duty ratings (the rating of how much weight it can support) and types when choosing the right ladder for the job," says Barbara.
Secure the Ladder
Use a ladder with non-slip feet and brace or tie off the ladder near the base. If there is no structure to use, then place a stake in the ground. Do not use a loose object as a support for a ladder. Also, when using an extension ladder, be sure to set it at the proper angle of a 1:4 ratio, says Barbara.
Always Face the Ladder
Just as important to face the ladder when you climb, up or down, is to keep your body centered between the side rails. And, use both hands to grab the rungs, not the rails.
Maintain Three Points of Contact
One of the best ways to avoid slips and falls when climbing a ladder or any type of equipment is to keep one hand and two feet, or two feet and one hand in contact with the object at all times. Not doing so may cause loss of balance.
What NOT to Do When Using Ladders
Overreach
You and the ladder will lose balance and are sure to fall if you reach too far while working on a ladder.
Place the Ladder on Uneven Ground
Each of the ladder's four feet must make firm contact with the floor or ground.
Stand on the Top of the Ladder
Never stand, climb or sit on top of a stepladder or pail shelf.
Review Worker Safety Tips
In addition to proper use of ladders, Barbara encourages skilled trade workers to take time this week to refresh their safety training on the use of scaffolds and working on a roof. Safety tips should be posted at your worksite; or can be found on the OSHA website.
Barbara also encourages companies that may have a hazard work environment, to visit their worksites and ensure proper safety measures are followed. She also asks employers of companies not exposed to fall hazards to talk with their employees about other hazards that may occur in the workplace and include company safety and goals.
Partner with LEAD Corpus Christi
Are you a skilled trade worker seeking a new job in the construction industry? LEAD Corpus Christi can match you with a top business whose employees and their safety is priority.
Barbara Lopez has over 15 years of experience in the skilled trade workforce industry and is dedicated to creating true partnerships with LEAD Corpus Christi clients by offering the best available quality skilled trade workers dedicated not only to their craft, but to safe practices on the job. To learn how you can be partnered with the right worker for your projects call Barbara today at 361-208-7708!