LEAD Celebrates World Day for Safety and Health at Work
Organized by the International Labor Organization in 2003, World Day for Safety and Health is based on the premise that every worker has the right to a safe and healthy working environment. LEAD Pacific Northwest staffing is proud to promote safety in the workplace for its skilled trade workers today and every day. "On-the-job safety along with a healthy work culture is a high priority for LEAD," says Michael Lennox, Pacific Northwest, Regional Manager.
The National Institute for Occupational Safety and Health (NIOSH) Core Competencies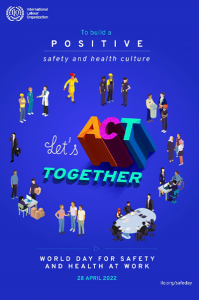 To help employees be safe in their work environment, The National Institute for Occupational Safety and Health (NIOSH) developed a framework of skills that each worker should know.  These eight core competencies are based on a variety of abilities. Workers should be able to read information, apply mathematics, think critically, communicate effectively and handle social relationships responsibly. NIOSH lists the eight core competencies you should know to be safe and job ready:
Recognize that although work is valuable, any worker can be injured, become sick, or even be killed on the job. Understand how workplace risks can affect your life and your family.
Recognize that work-related injuries and illnesses are predictable and can be prevented.
Identify hazards at work and predict how workers can be injured or made sick.
Recognize how to prevent injury and illness. Describe the best ways to handle hazards on the job, and apply these to problems at your workplace.
Spot emergencies at work and know the best ways to handle them.
Recognize employer and worker rights and responsibilities that play a role in safe and healthy work.
Find resources that help keep workers safe and healthy on the job.
Show how workers can communicate with others—including people in charge—to ask questions or report problems or concerns when they feel unsafe or threatened.
Train Workers to Take Precautions for On-the-Job Safety
"So much of the safety practices we are taught are common sense; however, there are times when common sense isn't enough, and workers need to be trained in specific safety precautions for on-the-job safety," says Michael, who has a combined 40 years in construction, marine, and industrial staffing. He says LEAD is focused on finding creative solutions to business challenges, including conducting on-site visits and trainings to ensure safety in the workplace.
Michael suggests also learning about employee rights and employer responsibilities, which is one of NIOSH's eight core competencies. He explains that every employee has a right to a workplace that is safe for all which includes training on safety for a specific job or location. And, if a worker believes a job is unsafe, they have the right to refuse to do the job or task believed to be unsafe.
"Every worker has important duties, as well," says Michael. Workers should use safety equipment provided and/or required by their employer, follow safety procedures and report any concerns of safety for oneself or co-worker to a supervisor.
Employers Must Provide a Safe Workplace
"Employers must provide a workplace that is free of known hazards that can cause injury, illness, or death. Other employer responsibilities include informing workers of potential or known hazards through training or policies and safety practices, and explaining and displaying OSHA regulations, and employer/employee rights and responsibilities," says Michael.
Celebrating World Day for Safety and Health at Work
World Day for Safety and Health at Work is one day businesses across the globe recognize the importance of safety in the workplace. If you are a skilled trade worker in search of a quality, safe workplace for your next job, LEAD Pacific Northwest may be the right fit for you.
LEAD will find the best company for your skill as well as ensure you have the training you need to perform your role safely. Call Michael Lennox today to learn about LEAD's safety program for employees and how LEAD partners with their clients to provide the safest workplace for skilled trade workers.