Get the LEAD Advantage in Skilled Staffing with Industry Veterans
LEAD Tampa Bay has been helping companies meet their skilled trade staffing needs to complete projects and meet goals since 2010. A leader in the Trade Staffing Industry, LEAD was built by industry veterans who have first-hand knowledge and experience in skilled trades, and management, staffing and recruiting. Mark Curtiss, LEAD President, is the founder of the powerhouse staffing company headquartered in Tampa.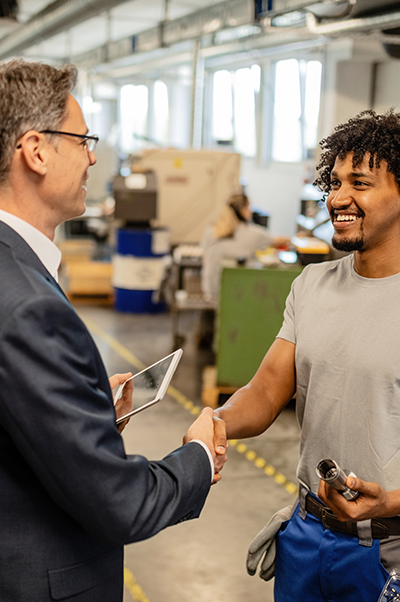 "We are fully dedicated to our business partnerships. It is our priority to assess and secure the best skilled trade workers to place with our partner clients," says Mark.  "Running a business or managing a project, and suddenly finding yourself short-staffed is stressful. Losing one worker for one day, one week, or more, can affect your ability to meet customer needs and project goals. From the beginning, I wanted to alleviate that stress for our local Tampa Bay companies."
"The success in Tampa – in building a unique operating and sales system with proven management operations – was enough to move forward. I was comfortable that my vision of Nationwide sustainable, scaled growth could be realized and become a unique asset to the staffing industry," says Mark.
With a solid foundation of relationships built on listening to our client partner's concerns and needs, and a successful, thriving business in place, Mark was ready to grow the staffing company. He developed a partnership development plan and began recruiting industry veterans to manage LEAD locations as they became available.
The goal for Mark was to create an employee owned and managed nationwide company and industry leader in matching skilled workers to best suited jobs – easing the pains of staffing for companies across the country. Ultimately, he opened the business to franchise opportunities.
 "I'm proud of our beginning and the landscape of our future," says Mark. LEAD Tampa has grown to 11 locations, with a hand-picked, thoroughly vetted national leadership team boasting many years of skilled trade staffing experience. LEAD specializes in construction, industrial, renewable energy, marine, and health professional services – supporting  companies nationwide with employee placement. Whether temporary or permanent, LEAD staffing has built a roster of highly trained, skilled workers committed to safety on the job and dedicated to their trade. "We've got what your company is looking for when it comes to quality employees," says Mark, "and our industry-leading technology, fast and secure onboarding process saves you time and money when you need it most."
Mark says, "LEAD's focus on operational excellence coupled with building trusted relationships with businesses and skilled trade candidates, has established a national reputation of accomplished market leadership."
"It's exciting to be managing partner in the location where it all started," says LEAD Tampa's Jason Stephens, who also is a licensed general contractor in Florida. LEAD Tampa specializes in the industrial and construction industries finding and placing candidates in a variety of roles such as carpenter, electrician, pipefitter, plumber, sheet metal mechanic, welder, and more.
Jason has over 20 years' experience in the construction and building materials industry, with ten in the skilled trades staffing industry. Tampa companies can be assured they have the best-of-the-best in their LEAD staffing resource.
"LEAD Tampa is comprised of a committed team, fully dedicated to our business partnerships, and focused on providing the optimal manpower a company needs. Our goal is to provide peace of mind to the HR managers, project managers, contractors and business owners who manage staffing so they can spend more time focusing on other areas that will get them to their operational goals. Their success is our success," says Jason.
Are you ready for the LEAD Advantage? Business leaders, local to Tampa Bay and across the country, in search of quality skilled trade staffing for their projects can experience the LEAD Advantage by reaching out to LEAD Tampa Bay's Managing Partner, Jason Stephens, today. Call 813.513.0845.