Emotional Intelligence is the Backbone of LEAD Pinellas' Success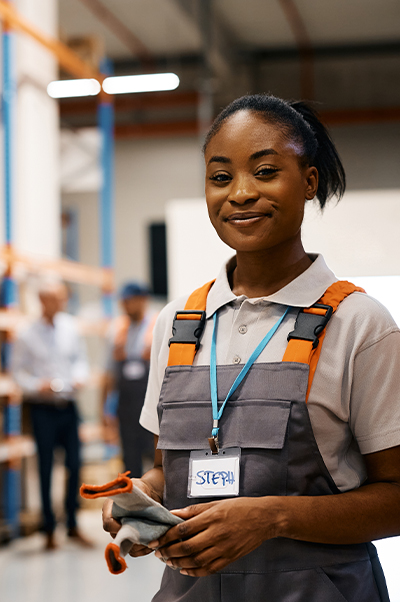 Focused on strategic, long-term partnerships with clients and workers, LEAD Pinellas, one of the newest skilled trade staffing companies in the Tampa Bay region, uses emotional intelligence, its key component of effective leadership, when recruiting skilled trade candidates. Using emotional intelligence enables the team to continue to find the best-fit trade workers for client companies to progressively move their business forward. Jennifer Peavy, LEAD Pinellas Branch Manager, understands that long-term success for any business comes down to hiring the right people.
What is Emotional Intelligence?
"Emotional intelligence is how effective we are at managing ourselves and building positive relationships," says Jennifer. "Basically, we treat individuals as human beings." She further explains there are five main components of emotional intelligence.
Five Key Components of Emotional Intelligence
Self-Awareness
How well do you know your strengths and weaknesses compared to how you are perceived by others?
Self-control or Self-regulation
Can you manage your actions and emotions in a productive and healthy manner?
Motivation
Do you have an innate personal drive to help you improve yourself and achieve your goals? Are you resilient and optimistic? Do you strive to find the positive in any situation?
Empathy or Awareness of Others
Are you empathetic to others? Do you know their emotions and needs in addition to their skills and preferences?
Relationship Building and Social Skills
Do you use your awareness of others to maximize their potential and your relationship?
Recruiting Skilled Trades Workers with Emotional Intelligence
The LEAD Pinellas team practices emotional intelligence when recruiting skilled trade workers who also exhibit a high level of emotional intelligence. "These individuals tend to cooperate with others, better manage work-related stress, more easily solve conflicts within the workplace, and are calm and productive under pressure," says Jennifer.
"When interviewing candidates, we listen intently to learn their work style and what motivates them. Understanding this can help us to find the right fit for employment success," says Jennifer. And when onboarding, LEAD Pinellas carefully screens and tests each candidate to ensure they meet the highest standard.
"It is important for us to know our trade worker candidates as well as the companies who count on us to help them staff their openings. We work with our partner companies to learn the specifics of a position and about the team dynamics in which a worker would be placed," says Jennifer.
Workforce Solutions by LEAD Pinellas
An emotional intelligence approach with quick response to workforce solutions results in a high success rate for LEAD Pinellas. If you're in need of a skilled trade worker or someone who is looking for a skilled trade job in commercial construction on the central Gulf Coast of Florida, reach out to Jennifer Peavy to learn how her team can help you reach your highest career potential. Call today, 727-219-2602.